Arctic Cat is about to reveal a new sled during Hay Days. We got this snip-it in our email today:
For one weekend a year, snowmobile and ATV enthusiasts descend on Sunrise Township, Minnesota, for Hay Days – an event where they can sample the best and brightest of our industry. And alongside the grass drags, swap meets and lesser competitors, Arctic Cat® will dominate the festivities like never before. Because this Saturday we're unveiling a sled that could change the industry and your life.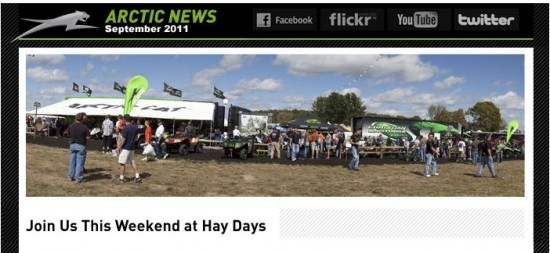 All weekend long, you can check out our new race-bred and proven ProCross™ and ProClimb™ chassis. You'll even get a chance to feast your eyes on our all-new pure-sport Wildcat® 1000i – an eye-popping side-by-side that's turning heads everywhere it goes.
Join us at our booth on Saturday, September 10th:
1:00 pm – The newest, hottest sled from Arctic Cat
1:30-3:00 pm – Autographs from our Team Arctic racers
So, get to Hay Days this weekend and Share Our Passion!
Could it be a new race sled? Is it a 600cc emissions compliant motor? Is it a new mountain sled? Perhaps it's a side-by-side twin tracker? Those who can make it will see it there. Otherwise we will post the info as soon as we are able. Stay tuned!