It seems like just yesterday the 2010 models were introduced. The years seem to go by so fast, and we've barely gotten to ride the 2010 demo sleds. Today, Yamaha introduces its 2011 models and while a lot of is status quo, they've got an updated model that simply rocks!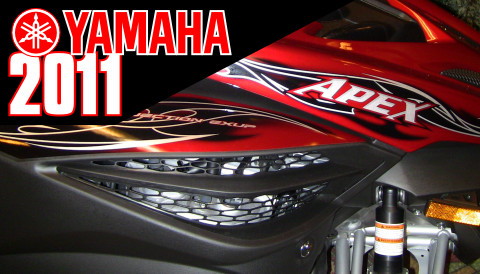 2011 Apex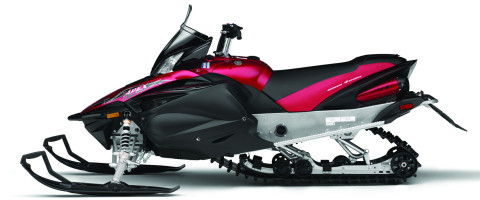 The buzz that has been created throughout the online community over this sled is nothing short of fantastic. Ever since photos have been leaked, people have been blogging, speculating and otherwise anticipating its launch. Is it revolutionary? Well, you be the judge.
First, we have to say that we don't have a lot of detailed information on the specs of this machine. Hopefully Yamaha has those posted on their site and will certainly have that in their literature. We can tell you what we do know. The all new 2011 Apex from Yamaha gets a facelift and some body tweaks, namely in the Delta II frame, rear exhaust and seat. The rest is pretty much the same, but the improvements in the engine and steering make this sled enough of a change from the current Apex to make the upgrade worth a look.
Engine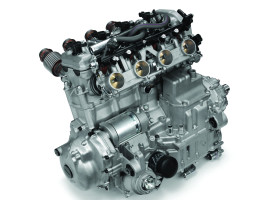 It's a 4-stroke, no doubt, but on our early ride we could certainly feel something different, but we weren't sure what it was. We speculated that it might be a 3-cylinder, yet it was as smooth as a four. We couldn't tell any signs of a turbo, yet it had a crisp throttle response and gobs of unwavering torque. Well, we can say with certainty that the engine is a 160HP class engine; the final calibrated numbers of which won't be in until later this season. It does not have a turbo, but instead gets Yamaha's exclusive EXUP exhaust system found on their R1 bike. This is what gives the Apex engine a whole new feel and linear power without waiting for a turbo charger to spool up.
EXUP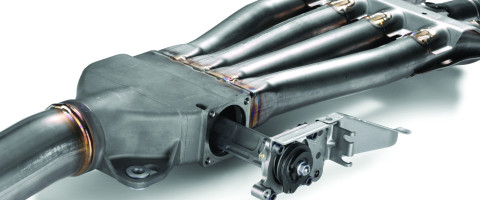 EXUP stands for Exhaust Ultimate Performance and in layman's terms is a valve inside a housing at the 4-into-1 transition that acts very similar to what a RAVE valve does on a 2-stroke. It controls the backpressure electronically at various RPMs so the engine runs at optimum torque throughout its powerband.
Other Improvements
There are a couple of other improvements that the Apex engine has. The throttle bodies and injectors have been moved closer to the intake for improved throttle response and the idle adjustment screw has been eliminated and replaced with their ISC valve similar to the Nytro motor. Idle is smooth and steady. This also reduces engine breaking and smoothes the slow-down when you release the throttle when coming into a corner. It's not as harsh as the previous Apex engine.
A new airbox feeds the extra air needed power this engine at higher RPMs and new valve timing increases the response this motor has by utilizing exhaust gasses to pull fresh fuel and air into the cylinder. A knock control sensor has also been added to protect against poor fuel. It adjusts the timing when it senses engine knock.
A high-output alternator gives 13% more power to run hand warmers and plug-in accessories.
Steering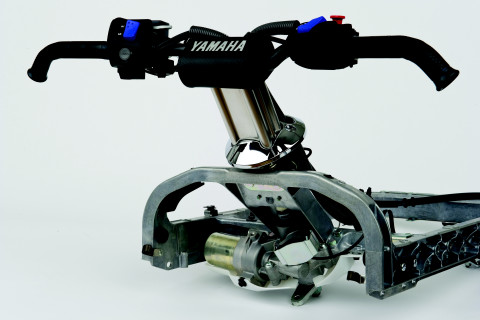 We never had issues with steering on the Apexes, other than the darting Yamaha's are known for. There have been some aftermarket fixes to improve that, but Yamaha has addresses this issue at a factory level. The A-arm front suspension has been updated with minor geometrical changes to move the trailing of the ski back 15mm coupled with a new rubber mount. A new front ski design with a deeper and shorter keel with more keel behind the spindle also helps reduce darting and makes it easier to steer.
The biggest news to come out of camp blue is the addition of power steering, yes, power steering to the Apex model. We've seen this feature added to many of the ATVs recently and while some may wonder if it's really necessary, our preliminary ride kept us wanting to stay on the 2011 as opposed to the 2010 Apexes simply because the power steering was less fatiguing especially during the tight-twisty trail ride.
Yamaha's EPS system is speed sensitive. The faster you are driving, the less affect is has on your steering. When you slow down, it kicks in to assist turning the skis.
Track and Rear Suspension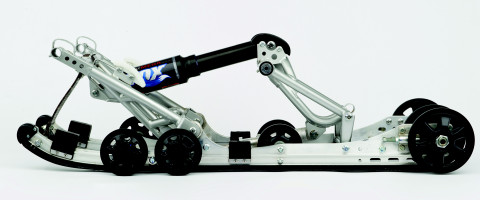 There are two track lengths available for the new 2011 apex; 128 and 144. The 128-inch suspension and track adds just enough additional bite and bridging to get the additional power and torque to the ground and offer a smooth ride. The 144-incher is for those who want a little more floatation to go off-trail once in awhile, yet with the tipped rails still handles well on the trail. It gets the Mono Shock II treatment that the RS Vector received last year.
Ergos and Amenities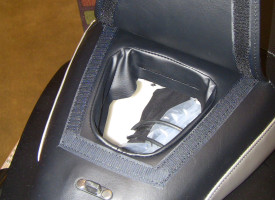 We've been writing about this for years; that we wished the Apex (and RS Vector) would come with a taller seat so our knees were more at a 90-degree angle. Because of the retooled exhaust system, the 2011 Apex finally gets an updated seat. This is a huge improvement in our books and sitting on the new Apex feels quite comfortable. There is also ample storage in the rear of the seat. Sorry, this seat will not retrofit an older Apex.
A taller and stylish windshield is also standard to help protect you from the wind chills during those blustery days. While bikini windshields look cool, they are simply just for that – looks, but otherwise impractical. Today's machines have been wind-tunnel tested with the taller wind screens to actually have a better top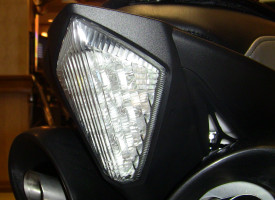 speed than a short windshield, contrary to popular belief. It may have been true at some point that a shorter windshield would give you better top speed, but not on most of today's machines.
A new shape to the LED taillight sets this Apex apart from the previous ones. The tunnel has also been changed to accommodate the new exhaust and gives the Apex a sleeker appearance.
Brent Nelson offer this comment:
"My comment still stands about this sled, 'Pump your spirit not your arms'.  I really believe Yamaha can hit a very broad market with this technology. Women will really like the ease of steering; good for young riders too, if this sled didn't go like a 'Bat out of hell'. I consider myself an aggressive rider and I would purchase this sled. On the hardest setting it only bottomed out a couple times and I was slamming it!"   Steve Franta adds:
"First impression of this all new Apex is WOW! The power of the motor, steering effort… just the whole package; I'm sold! If you're the high mileage trail rider that wants comfort, (including wind protection) reliability, ease of operation, and likes to have fun I would highly recommend this sled. When you take a step back and look at all the engineering that went into this, you can really see that the all new Apex is in the elite group."
Packages
Apex
The 2011 Apex is available in a standard configuration with an adjustable mono-shock rear suspension (non-electric) and adjustable HPG front shocks and in either the Yamaha Blue and White or Candy Red color.
Apex SE
The SE package replaces the oil shocks with Fox FLOATS all around, eliminating the springs. You'll be riding on air with the Fox FLOAT 2 front and Fox Mega FLOAT rear. The Mega FLOAT is a high-volume air shock that offers a plush ride for all-day comfort and anti-bottoming. Both are adjustable with a hand-pump to customize the ride for you. The SE is available in Yamaha Blue and White or Black.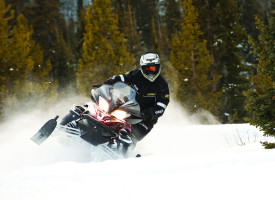 Apex XTX
The XTX version gets the 144-inch track and tipped-up suspension with a dual clicker CK rear and 40mm HPG clicker front shock. The front suspension gets HPG shocks. It's available in Yamaha Blue and White and Candy Red.
Yamaha Spring Incentive4-YEAR WARRANT
Or
$700 Voucher
Last year Yamaha introduced the 4-Year Warranty Voucher program where you simply signed up to get a voucher with no commitments to models and no money down. When the sleds were ready last fall, people who didn't sign up for the program were disappointed that they didn't get in on the 4-year warranty. Yamaha is bringing this back again this year with the added incentive of your choice of $700 in parts and accessories or the 4-year warranty, so if you're thinking about getting a 2011 Yamaha, sign up for this voucher before the deadline.
The rest of the lineup
The rest of Yamaha's line-up includes the usual suspects with changes in paint and decals, but remains a tried and true choice for updating your older 2-stroke to get into a performance 4-stroke and have all the Yamaha benefits of fit-and-finish, smooth engine power, electric start and reverse, and the unsurpassed warranty they offer.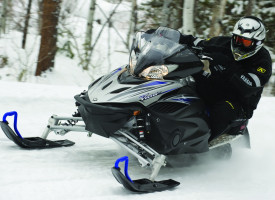 2011 RS Vector
The RS Vector comes back with the updated fuel-injected engine and other improvements found in the 2010 models (read our review here). It comes in a 121-inch GT and a 136-inch LTX version, both in a Silver and Blue color package.
2011 Venture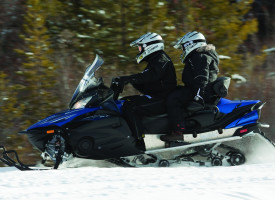 Three models return for the touring group from Yamaha; the RS Venture GT in the updated chassis and fuel-injected 3-cylinder engine in a very pretty Electric Blue or Yamaha Black; the RS Venture in the older chassis with the mid-performance carbed 3-cylinder engine in a Silver color and the Venture Lite for upright ergos based on the Phazer chassis with the 80-HP twin 4-stroke available in a White and Silver package.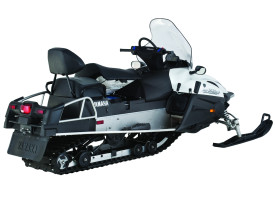 2011 RS Viking Professional
This model returns in its undaunting fashion with no changes from last year, now available in White or Yamaha Black.
2011 FX Nytro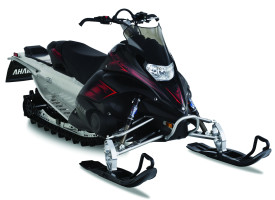 Five Nytros appear for 2011; a standard FX Nytro with GYTR premium dual-clicker shocks, dual shock CK rear suspension and 40mm HPG clicker shocks on the front arm available in White and Red; the RTX with the high-performance Fox FLOAT X dual-clicker shocks on the front suspension, a dual shock Pro 46 rear suspension with 2-way clicker front and 3-way clicker rear shocks in Yamaha Black and Red or Yamaha Blue and White; the XTX with a 144-inch tipped-rail rear suspension available in White and Red or Yamaha Blue and White; and two mountain versions, the MTX SE 162 and MTX SE 153, both with the Fox FLOAT 2 front and rear suspension available in Yamaha Black and Red or Yamaha Blue and White.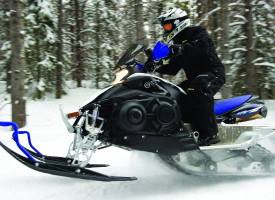 2011 Phazer
The Phazer, which is still one our favorite machines for all-out fun in the ditches, twisty trails and short runs, comes in three versions; the GT with a softer riding suspension for trail, the RTX for more of s bump and grind type of ride, and the MTX for light fun in the mountains. All three are in a White and Yamaha Blue color scheme.
Grid
This is how the Yamaha lineup looks for 2011 in a simple grid.
Segment
Up to 80HP

(Sport)

120-126HP

(Mid-Performance)

130HP

(High-Performance)

150+HP

(Top Performance)

Trail
Phazer RTX

Phazer GT

RS Vector GT
FX Nytro

FX Nytro RTX

Apex

Apex SE

Cross Country
RS Vector LTX GT
FX Nytro XTX
Apex XTX
Mountain
Phazer MTX
FX Nytro MTX SE 153

FX Nytro MTX SE 162

Touring
Venture Lite
RS Venture GT

RS Venture

Utility
RS Viking Professional
Conclusion
Overall Yamaha has a good lineup with a model that works for any type of rider. Their engine packages cover most horsepower ranges and every machine, while built more for one type of ride, is versatile enough to spill over into other types of rides. For example, if you are a ditch rider for 80% of the time, you might choose a Nytro SE or Phazer RTX, and yet the other 20% of the time that you aren't riding the ditch these machines will perform well. If you are a trail rider most of the time, an RS Vector or Nytro base model might be your choice, and the times you aren't on the trail, they will work just fine. Just don't choose a Vector if you're mostly a ditch rider, or a Nytro RTX if you're mostly a trail rider and you'll be extremely happy with your Yamaha.
Of course, if you want all out power with effortless handling, then the new 2011 Apex will be your only choice. We can hardly wait!!