We have seen nice touring sleds, and every year we are loaded with dozens of choices for great trail snowmobiles, as well as machines that do as well off-trail or in deeper snow conditions.  Although it would be nice to have a separate sled for each purpose, for most of us it is just not practical. What happens is that we compromise and buy the type of machine for the trail riding we do the most.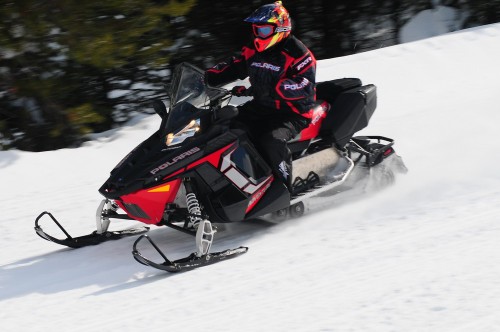 For 2012, Polaris introduces the new 600 Switchback Adventure.  This machine is designed to avoid the compromise needed in the past. At the heart of the Adventure is the proven 599cc Liberty engine that still thinks it is a 700. One of the best engines that Polaris ever built, the power is smooth and has a nice mid-range punch. The 136" Pro-Ride answers our wish list for a longer version of the same progressive rate rear skid as the Rush, but slightly shorter than previous Switchback models. It also receives the same all-new front IFS as the 800 Switchback Pro-R for great mogul handling, while still delivering a smooth ride.
What sets the Switchback Adventure apart is the flurry of comfort and convenience features as standard equipment. The taller windshield with wind deflectors is the epitome of rider comfort, offering superior wind protection. The sled features 12-volt and RCA outlets to power a GPS, charge a cell phone, or defrost your shield, and dual rear view mirrors are standard. But that's not all—the new Adventure Cargo System® and the Lock & Ride® technology include the aluminum cargo rack and Lock & Ride® saddlebags.  The locking bags are easily removed but turning the locking nut to bring indoors during overnight stays.  The zippered interior bags are waterproof to keep your clothing and other items nice and dry throughout your trip. If the accessory Rack Bag is added, it not only provides the maximum amount of storage for long trips but gives the option of just loading essentials for a day ride and leaving the saddlebags off.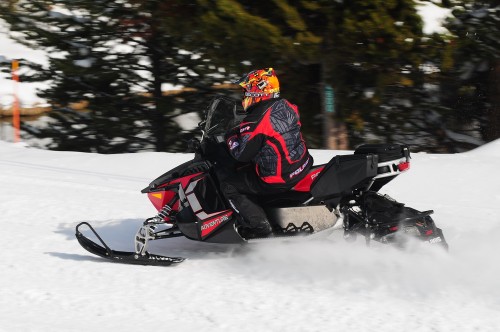 Whether you are mostly a trail rider, like the long point A to point B touring or just want a nice performing machine that you can take off the trail into the powder when the urge arises, the 2012 Polaris 600 Switchback Adventure may be the sled for you.
For more information, visit www.polarisindustries.com or see your Polaris dealer.