I approach my Snow Shoot Rider's Report by covering the models that stand out in each segment rather than going brand-by-brand. Each manufacturer approaches these segments in their own way, so I'll do my best to fit the models in the correct category. I will cover Sport/Trail, Crossover and Touring. I'll mention the Mountain segment at the end, but I won't touch on the utility market in this article. Our readers are more into the other segments, but I will say that there is a large utility market worldwide. I'll also concentrate on the highlights of each segment rather than each specific model.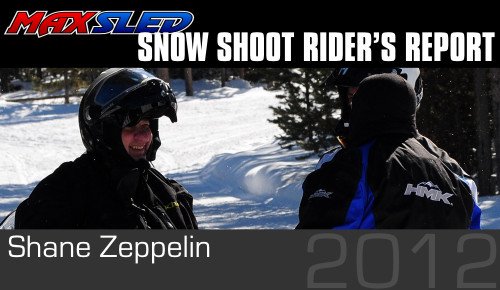 Sport/Trail
This is a very wide segment consisting of several models and engines. While the sport portion of the segment could be interpreted as "entry-level", it's far from it. Sure, there are entry sleds, like the Polaris 550 IQ Shift and Arctic Cat F5, but there is also the MX Z Sport with a Rotax 600 carb, and Yamaha Phazer RTX. Polaris relegates their older chassis to the Sport class, offering the 550 IQ Shift and 600 IQ Shift, as does Arctic Cat with their F570 and F5, but Arctic Cat also offers the 500 Sno Pro in their current race chassis. Ski-Doo gives you their current technology in the REV-XP chassis and also offers three engines; 600 ACE, 600 carb, and 550 fan. Yamaha gives you the Phazer RTX. Not a lot new here, but several choices for the novice. There are two models that stick out for me in Sport class; the Ski-Doo MX Z Sport 600 ACE and Arctic Cat 500 Sno Pro. The MX Z Sport 600 ACE has tremendous fuel economy, it's quiet, and it's fun to drive. The 500 Sno Pro is even more fun and brings back memories of youth.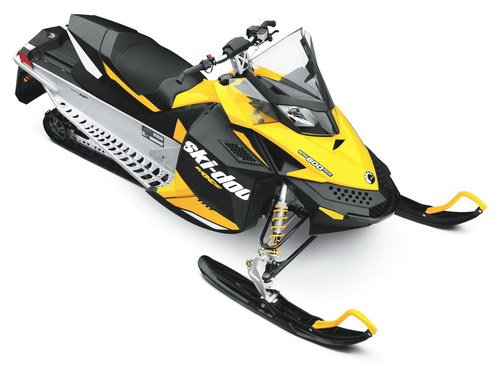 The trail portion gets a little trickier. There are so many models in this segment that even if you do narrow it down to a brand, you'll have a tough time choosing a model package within that brand. You've got the Polaris Rush, Arctic Cat F-Series, Ski-Doo MX Z and GSX, Yamaha RS Vector and Apex and several choices in those models.
Arctic Cat brings a brand new chassis to the table, and it's pretty good. Objectively, I like the new look and while the Twin Spar chassis didn't look bad, Cat did a great job of outdating it in one fell swoop. It's not like going from the iPhone 3 to the iPhone 4, but more like going from the Motorola Razr to the iPhone 4. There is so much new that I don't have the space in this article to write about it, but it's pretty cool. The ergonomics are as good as the previous generation, but not quite as good as the Rush (which is now my top-fav in ergos). I really like the way Arctic Cat mounted their instrument pod and the way they thought about utilizing the space just underneath it. This new chassis is so light weight that to me, the 4-stroke Turbo seemed to handle the best. This chassis will take a little time to get used to, but Cat is going in the right direction.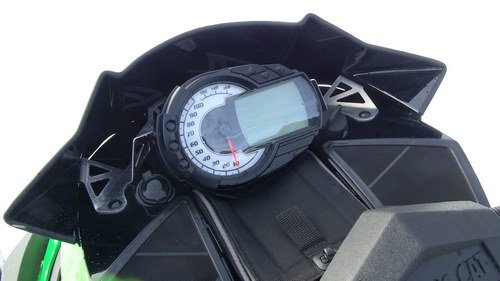 Yamaha adds power steering to their RS Vector, and it may not seem like a big deal, but you do notice it at first, then you forget about it because it just works. Yamaha's RS Vector is probably the best Yamaha model in their lineup, upped only by the LTX version. It fits both genders equally well. The RS Vector handles near perfectly that on most trails it will dominate an Apex. It's lighter, it's more nimble, it has a great sweet spot powerband, and it's easy on fuel.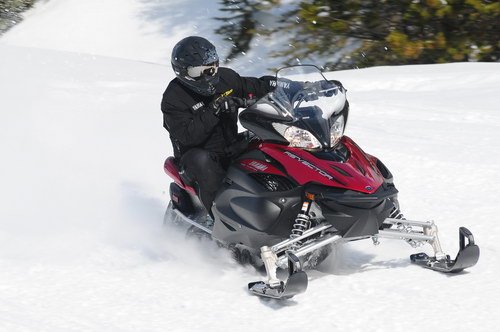 Polaris has changed the tide with the Rush and the Pro-Ride chassis. This is the styling and chassis they have been missing since the Indy went away. The ergonomics are second to none on this machine (very similar to the Yamaha Phazer, but with a wider seat, and similar to the REV-XP, but with better leg position). Polaris has also done a great job improving the handling, even from last year which I thought was a big improvement from the year before. The only wish-list item I would like to see in this chassis is an upgraded 4-stroker. Still, their 600 is bullet-proof, and they delivered big time this year with their 800.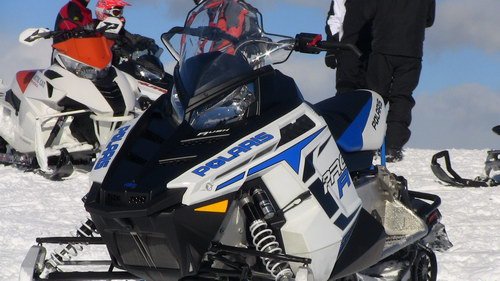 Things didn't change much for Ski-Doo in this segment, except a big-fat rear suspension upgrade! Yes, the rMotion works, and it works well, and it works well for everyone in our group from the smallest guy (Jim) to the biggest guy (me). It's easy to adjust and it has a wide range from marshmallow soft to pine-board hard and everything in between. Plus, they did it without a bunch of tubes and joints outside of the tunnel. How big a deal is the rMotion suspension? I'll say this; I can see this suspension as the future on all of their trail models (MX Z to GSX).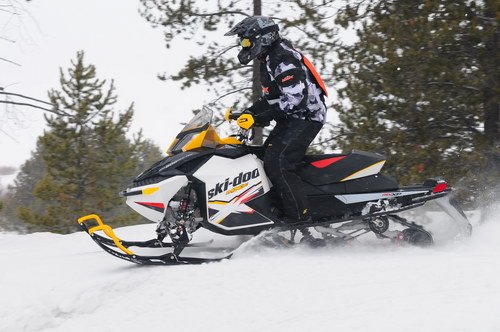 Crossover
Snowmobiles in this category are designed to be ridden on the trail, yet can also be ridden off-trail in deeper snow. For the most part, they are longer track machines with wide ski-stance front suspensions. Track lengths vary from 136-inches to 144-inches. I tend to like the 136-inch track length the best as the machines are more stable at higher speeds, yet they handle pretty well (albeit not quite as nimble as a 121-incher) in the tighter twisties. The 144-inch tracks push too much for my tastes, despite the tipped-rails some of them offer.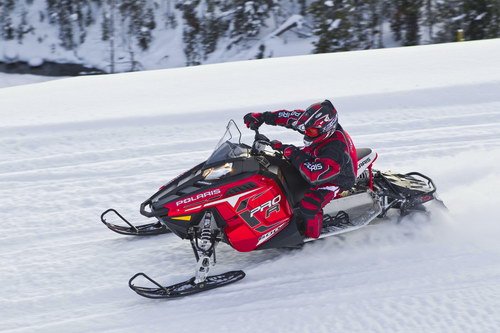 Polaris has the Switchback, which now comes in a 136-inch track, but they also put the Pro-Ride rear suspension on it. Now this suspension works well (even though I'm not fond of the tubing and joints), but it seems to work even better in a 136 version. I don't know, but with the excellent ergonomics, decent wind protection, and now the 136-inch track length, I'd almost have to say that this model from Polaris might be my personal top choice for 2012. They even developed a model called the Adventure, which is basically the 136 Switcher with added storage compartments for long overnighters. That's pretty cool, too.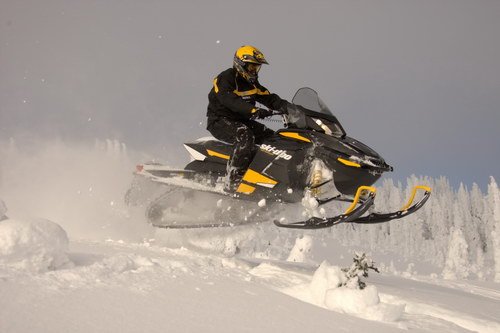 Ski-Doo returns with the Renegade, another perennial favorite of mine, with little changes from previous years. Heck, if it works, why fix it?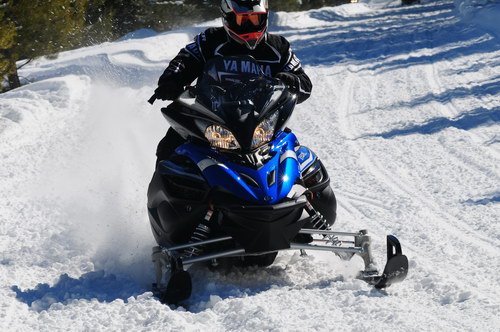 Yamaha also offers their Apex and RS Vector in the longer tracks, as well as the Nytro XTX. While the RS Vector is Yamaha's best sled, the Vector LTX is even better with the 136-inch suspension. This is my favorite Yamaha overall.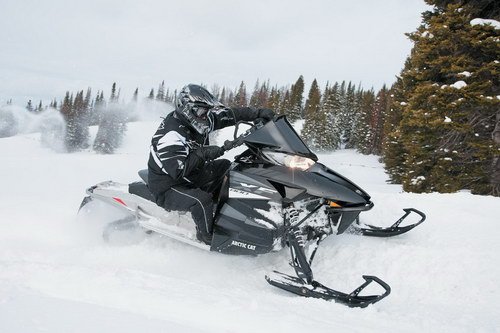 Arctic Cat comes in with their brand-new chassis dubbed the XF. All the goodness of the new chassis design seems to shine even better in the XF. While conditions and trails were a bit different for us between the F and XF models when we rode them in West Yellowstone, it seemed that the chassis shined in the XF configuration. Yes, the track is a 141, but it still seemed to ride better, and especially when you used the latter half of the Turbo's throttle.
Touring
This is a large segment in itself as more and more families are riding together and while the dominant rider in the family tends to get a trail rocket, a touring model is vastly becoming the second sled. As such, this sled can't look or act like a touring sled anymore. Times have changed and this model has to keep up. It has to look like the trail models and it has to have an engine that moves it along well.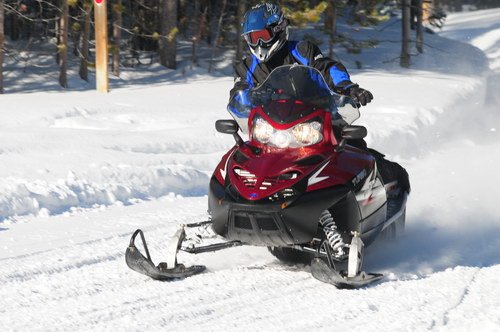 Polaris seems to be lacking in this department, not because their machines are bad, but more because the others are that much better. You do have some engine choices in the IQ LXT, but maybe an 800 Liberty would be nice, and upgrading the chassis for a more comfortable ride would be good.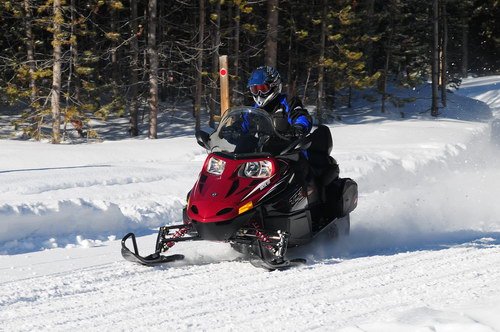 Arctic Cat is still the winner in this department with a heated seat and strong 4-stroke Turbo. Unlike the waste gate noise you get with the Polaris 4-stroke Turbo, the Cat version is smooth and quiet. Their suspension also seems to be the best of the bunch and the seating position is much more comfortable.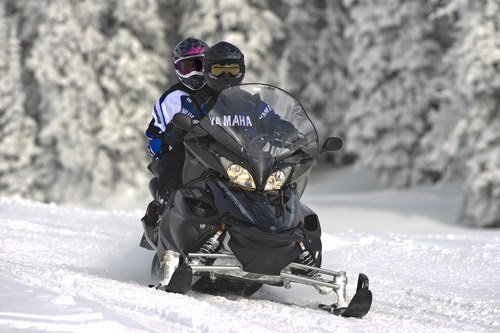 Yamaha has improved their RS Venture GT to be a top contender here as well. Its smooth motor is relaxing and the huge windshield is, well, as warm as you'll get without going all-out cab. The handlebars have been repositioned and EPS (electronic power steering) has been added for the best in driver comfort.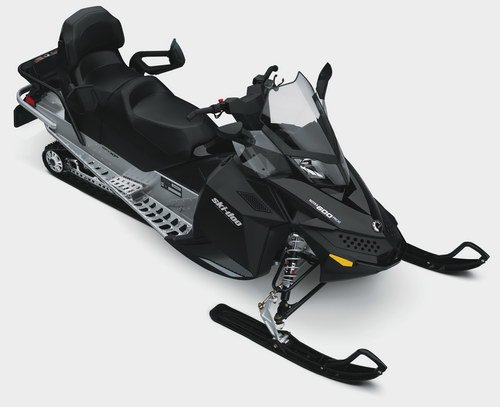 Ski-Doo has a surprise in this arena, and it's not their top-luxury model, either. The Grand Touring SE is a decent top model, on par with Yamaha's, but the surprise came in the more entry level Grand Touring Sport with the 600 ACE motor. Will it go 90 MPH? No. But it's surprisingly lightweight, and will go nearly anywhere. The motor is so smooth when taking off that if you closed your eyes, you wouldn't be able to tell you were moving. It's so fun to drive and the perfect machine for a beginner to learn on or as a snowmobile for the aged rider who still likes to get out and enjoy the winter, yet is beyond the trail rocket years. Did I mention this thing sips fuel? It's also very quiet. If you want to enjoy winter's bliss, this is the machine to do it on, bar none.
Mountain
Ah, the mountain segment. I'm not going to pretend I know a lot here, as my cohorts will tell you getting me up a hill now days takes a lot of coaxing. I don't know, I've always had a fear of heights (or rather falling from heights), but I did get back into some of God's country this go 'round. If you're looking for the real inside scoop on a mountain machine, I'm going to refer you to our experts in Dan Canfield and Steve Franta, as they have more experience and could tell you more about what makes a good mountain machine. Me, I'll stick with the low-elevation machines. Heck, we can't all be experts in every area. That's why we have a team.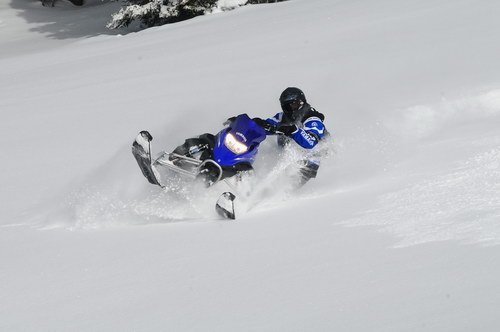 Conclusion
All of the manufacturers have great machines today. The winner is obviously the consumer. We have far superior snowmobiles today than we had even less than 10 years ago. We have more choices than ever before. We are able to choose a model and package that fits our particular needs and riding style, even more so than we could in the golden years of snowmobiles.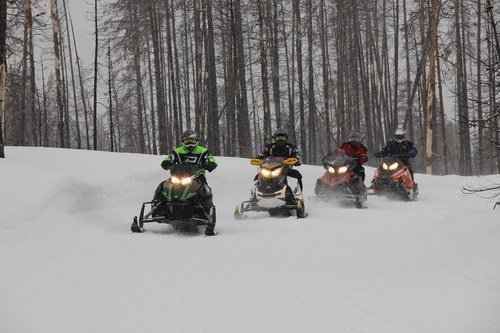 Arctic Cat continues with their passion and brings a whole new breed of Cat to the mix. Polaris has finally found their calling with the Rush and Pro-Ride chassis. Ski-Doo offers the widest range with the most engines than the others with a new suspension to boot, and Yamaha can hang their hat on durability, fit and finish, and the smoothest 4-strokes on the planet. You have some awesome choices when it comes to new 2012 snowmobiles.