In early February the Oval Racers Alliance held their U.S. Nationals at Ogilvie Raceway in Ogilvie, MN.  Ogilvie Raceway is normally a dirt track for stock cars. But for this weekend it was transformed into an ice oval for snowmobile racing.  These locations work great as there is everything you need for the racer and also the spectator. This location also allows for night racing which they had on Friday night. And when the racing went into the darkness on Saturday when I went, they just simply flip on the lights and keep racing.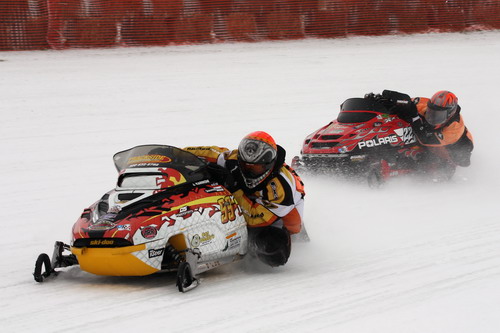 With the ORA, they race the modern late model sleds, but most of their classes are actually Vintage classes. There was more than just racing at this event though. They were also celebrating the 10th anniversary of www.VintageSleds.com. So there was a vintage show out in front of the raceway that had some really nice old sleds. It was definitely worth a walk through.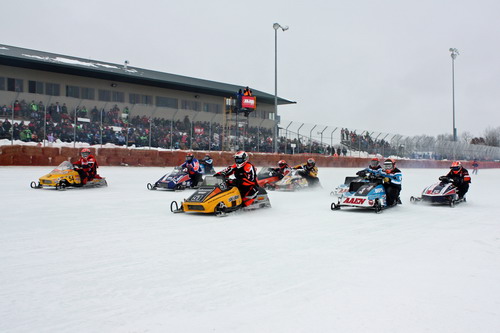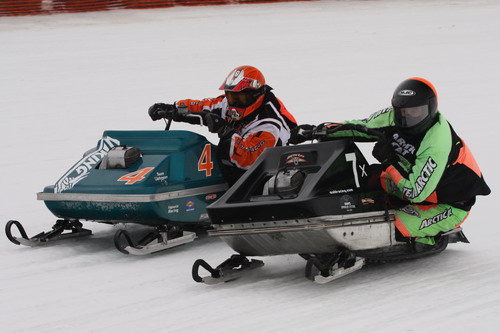 The racing started at noon on Saturday and ran until about 5:30. There was a lot of racing, a total of 63 races were scheduled. I really do enjoy watching snowmobile racing. But watching some of the vintage classes was like stepping back in time for me. Watching the 440X feature race you had all these factory race sleds from the 70's running around the track like they did many years ago. For this race Dave Neuman on his #54 Ski-Doo had everyone covered. In second place was Jacob Goede on his #72 Polaris RXL, which was actually a 340 sled. But a very fast 340 sled! When the Late Model Pro Open class came up, there were only 4 racers: Curtis Boivin, P.J. Wanderscheid, Dustin Wahl and Nick Vanstrydonk. Normally there is a lot more riders in this premier class. But this season has been a bad year for injuries which has taken out 4-5 of the top drivers.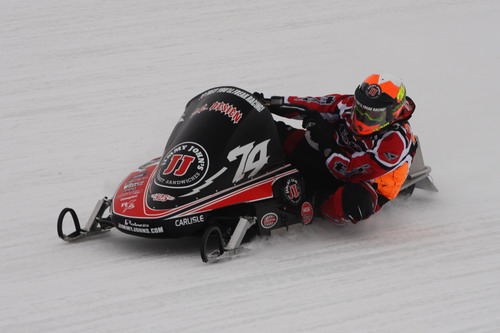 Also there was another race under the USSA circuit this same weekend which took away a few more drivers. If you want speed, this is the class to watch. And to watch these guys go around the track at high speeds simply must be seen to be believed. On this Saturday afternoon, it was Dustin Wahl on his Polaris that had the hot hand. Followed by P.J., Curtis and then Nick. But P.J. has been doing very well this year and he came back on his Arctic Cat on Sunday to take the win. For all the race results for the weekend, you can go to http://www.ovalracersalliance.com/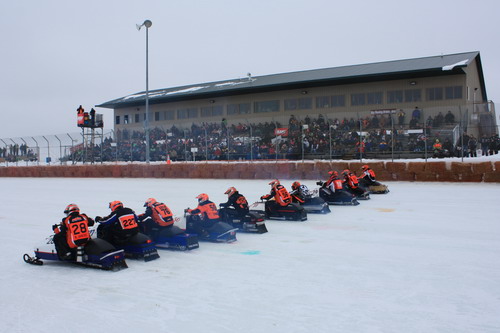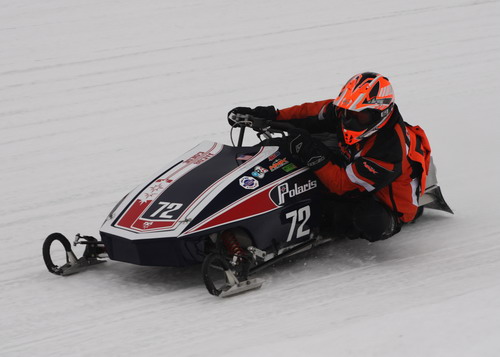 Ever wonder what it is like to be on one of these race sleds on the ice? Well, Greg and Jeni Bihner have had a camera on their son Gavin when he has been out racing this year. Here's a couple links to some videos from Ogilvie and Big Lake that Gavin raced in. Thank you to the Bihner's for letting me add these links in here, these clips are pretty cool!
Also, if you go to the Ogilvie Raceway website, they have some video highlights of this weekend of racing. http://ogilvieraceway.com/
There are more ORA ice oval racing events coming up soon. February 19th and 20th they will be in Grey Eagle, MN. Then on February 26th and 27th there is a race in Garrison, MN. This is a good one to go to and watch. There is so much more than just the Ovals going on there. In years past they have had other tracks on the lake for car racing, motorcycle and ATV racing, and Kids Pro Ice racing their Kitty Cats and 120's. And if the cold and ice gets to be too much, there is always the Blue Goose to visit for a bite to eat or a drink. Some people I know even go to the Blue Goose to "watch" the races. But I really think it is just because they don't serve Bloody Mary's down on the ice. Either way, I hope to see you at the races!!!