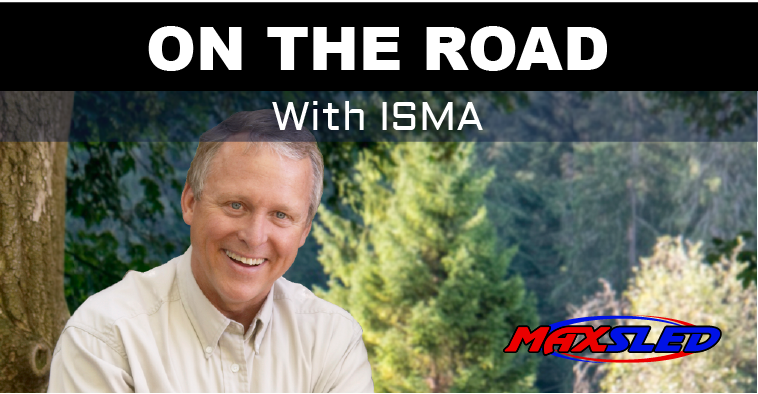 This has been another busy couple of months at the ISMA office.   Snow has fallen, and the trails are groomed for great riding.   We have taken numerous government officials out snowmobiling – introducing them to our great winter activity…
This year we are concentrating on taking Managers of Visitor and Convention Bureaus and Chambers of Commerce out riding to promote snowmobile tourism.   We attend their winter board meetings, talk about the many benefits of snowmobiling, and take them for a short ride to experience the fun for themselves.   So far it has been a great experience.  We create 'Miles of Smiles' and it is so easy to do!   People love getting out in the winter and snowmobiling.  If they have never been snowmobiling or if it has been a while since they have ridden, we provide safety training first and bring them warm clothing and gear to use.  The cute jackets, as we know do not work.  They may look better for a photo op, but out on the trail, where it really matters, warmth is the key to an enjoyable ride.
I have spent lots of time in Washington DC, meeting with members of the Outdoor Recreation Roundtable (ORR), a newly reorganized business group representing the outdoor recreation community –  snowmobiles, boats, RVs, ATVs, Motorcycles, fishermen and women of all stripes, archery experts, horse people and more are represented.  We meet to promote outdoor recreation activities and highlight our importance in today's world.  We promote, "Turning off your computer and getting outside."   (Bring your phone if you must – use it to take pictures!!)
The ORR meets with representatives from campgrounds, ski resorts, and trail managers and talk about the importance of having fun outdoors    We highlight the economic importance of outdoor recreation, and we want the government folks to know we pay taxes and help maintain rural America.   We expect great things to come from this new coalition    Events are being planned for lawmakers in Washington DC and beyond promoting our businesses.   Nationally, Outdoor Recreation generates over $885 billion in economic activity – providing lots of jobs and tax revenues.    We are an economic engine.
We encourage snowmobilers or interested individuals to visit our website www.gosnowmobiling.org and "follow" us on our Facebook page: www.facebook.com/GoSnowmobiling.  This time of year, many people are sharing their snowmobiling photos from the weekends on our Facebook page.  There are some truly amazing photos that can only be taken from a snowmobile in the winter and we got them!
The Groundhog may have seen his shadow, but snowmobiling is still going strong around here!!!