Every once in a while along comes a standout snowmobile. It's the kind of sled that feels like it was built just for me. This year it's the Z1 Turbo EXT from Arctic Cat.   I had the opportunity to ride one for a long weekend and being away from snowmobiling for a few years, I really didn't know what to expect.  I loved it!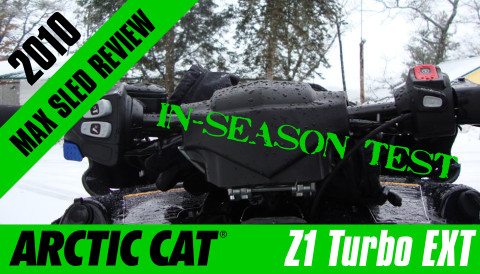 When I saddled up, the Arctic Cat had a whole new seating position for me but everything was still very familiar.  From the large hand/thumb warmer switches to the adjustable handlebars and comfortable hooks, this was definitely the newest Cat on the market. The 144" EXT model has a long tunnel that looks somewhat goofy sticking way out past the seat, but everything else about the sled was almost perfectly executed.  The seating position was a bit a of a change for Cat, with it being more of an upright position like Ski-Doo and Polaris, but not as drastic and at least for me, much more comfortable and able to go longer days.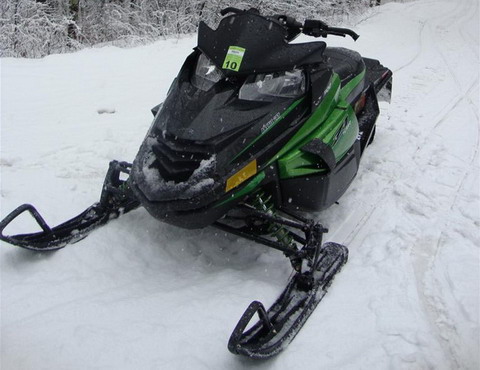 Adding to the rider comfort is the Cat Infinite Rider Positioning (IRP). I didn't think it was that big of a deal until I changed it up a bit and realized how much better it felt with the handlebars higher on curvy trails and lower on straight stretches and lake crossings.   You can set it up for the day or for greater flexibility, you can do like I did and keep changing it to compensate for changing conditions and reducing fatigue over a long day.  Another great idea!   Upon first hitting the key, I was amazed at the quietness of the engine, but still had a deep tone to let me know there was a powerful 1056cc 4-stroke, just waiting to be released.  While idling in a group, it was so quiet that I could hear the sleds around me, but had to keep checking the tach to make sure this one was still running.   On the trail, this sled brought instant smiles from me and gawks from other snowmobilers that we met. It has such a distinct appearance that everyone knows it's the newest Cat out there.  For a fast production snowmobile it has quite tame trail manners and was actually quite easy to manage on slow twisty trails.  For a heavy sled, it felt quite light and easy to manage, although with the long 144" x 15" x 1.25" Cobra track it did have a tendency to push into the corners slightly.  On the straight stretches—when the turbo spins up—a slight turbo whine produces the most arm pull that I've ever experienced on a snowmobile.   The Slide-Action rear suspension works very well on keeping the skis planted under acceleration but still offers a lightweight feel and a very comfortable ride. On other quiet 4-strokes a noticeable trait is the noise of the track, however the 1.25" Cobra produced very little noise. The AWS VII front suspension with Fox Zero Pro IFP shocks did a great job of soaking up just about any bump that could be thrown at it.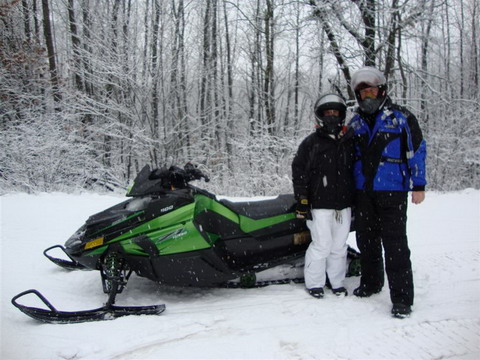 Another really cool feature is the push button reverse.  This isn't anything new to snowmobiles but the button does not obviously reverse the rotation of the 4-stroke engine.  Instead it uses electronic solenoids to run the mechanics in the chaincase.  Very simple and slick! We did have the button freeze up after riding in the freezing rain, and leaving it sit overnight.  After a few miles the next day the button freed up and was again usable. I'm just glad it didn't stick in reverse because that would have been a very long day.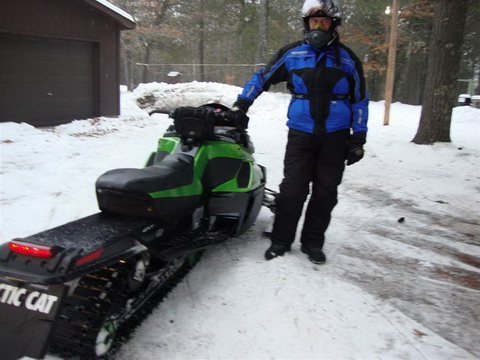 Unfortunately I haven't had much of a chance to check out all the other 2010 models but from what I've experienced so far, this sled is my top choice for long trips and I even opted for it first on the tight trails.  It's got the power, handling and comfort that I demand and unmistakable looks!
I'm a snowmobiler and the Arctic Cat Z1 Turbo EXT was my idea.