by Lewis McLeod
Sterling Mountain is located in northwestern British Columbia, approximately forty miles north of Terrace on Highway 113.  The main trails are maintained by the Skeena Valley Snowmobile Club, along with two cabins.  This year, it has been a snowmobiler's paradise, with somewhere between twelve and fourteen feet of snow at the second cabin (altitude roughly 3900 feet.)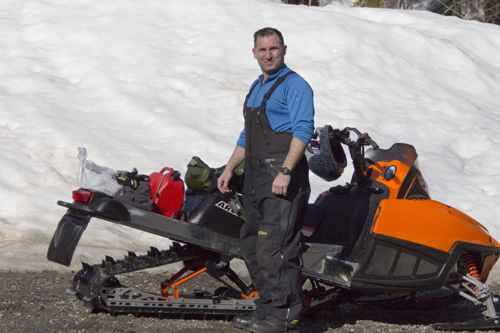 On this trip, we set out at 10:30 am on Good Friday as the first snowmobilers on the mountain.  Our party was made up of a 2008 Arctic Cat M1000 (Wayne Orbell,) a '92 Cat 550 Special (Corina Pongracz,) two '08 Polaris RMK 550s (Dan Weiman and Laura Robson,) a '95 Phazer-II long track (Kevin Pongracz,) and a 1991 Phazer-II short track with old-school UHMW bolt-on paddles (myself.) Our run up the trail to the first cabin was uneventful, although those of us without scratchers had to stop a number of times and kick ice and snow onto our tracks.  The snow was best described as go-anywhere snow, and throughout the day it proved to be the case over and over again.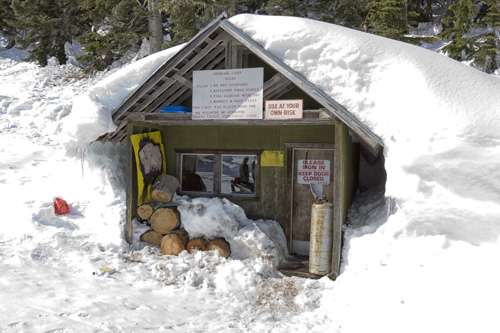 After signing in at the first cabin, we proceeded to carry on up to what we refer to as the Walls, where we did some hill climbing and some warm-up runs before taking on what is officially referred to as Portuguese Hill, the primary obstacle between the first and second cabin.  With the snow conditions we had, even my venerable old short-track Phazer-II made it easily up the hill, despite my relative inexperience.  We carried on to just past the peak of the mountain, where we stopped for lunch.  Food tastes FAR better at 4500 feet ASL, for some reason.  With the sunshine, we were able to sit in shirtsleeves and cool down, while I shot a little bit of video to show some people just how beautiful it is up there.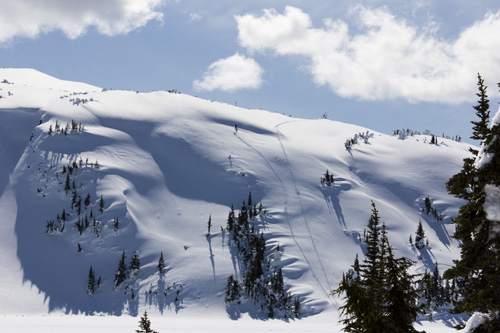 After lunch, we continued down the back side of the mountain, led by Kevin Pongracz, who had the most familiarity with the trails we were following.  After a couple of minor wrong turns into some beautiful riding areas, we eventually found ourselves coming down the sidehill that would bring us down to the large lake, which is home to the second cabin.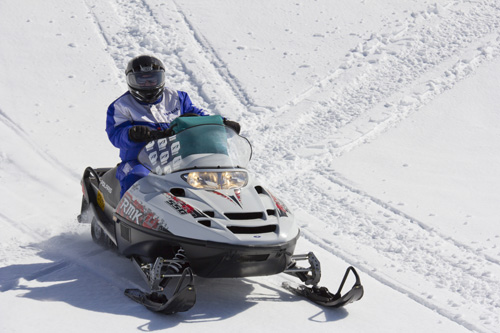 After cooling off yet again, a couple of the guys decided to play around and catch a little bit of air on some of the humps while I took pictures of them, and the ladies took video.  After chewing these humps down to not much, the guys then decided to go and do some hill climbing on a more challenging venue… the hillside across the lake.  Wayne's heavily modified M1000 easily powered its way up the hill even at part throttle, while Kevin rode his wife's 550 and followed into many of the same places.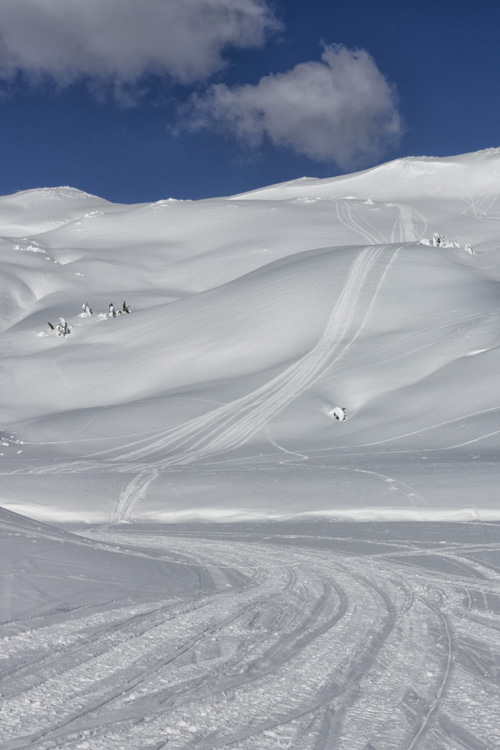 After a while, it was decided that we should try and head over to what is called Competition Hill by way of one of the back trails.  It was an interesting run, led by Wayne and his M1000, through some terrain that was fairly easily tackled by all machines, but we ran into some grief near the end of a small canyon.  Dan got stuck in a tree well that snuck up on him, while Laura nearly did also.  Looking around at the large snowballs that littered the canyon floor didn't give the rest of us much comfort, so we decided to make our way back, ultimately to the second cabin.  After a little bit of a rest there, we made our way back down to The Walls, where we again stopped and played around.  Corina flipped her 550 Cat at the top of one of the hills, and Kevin went to her rescue.  Fortunately she was unhurt, aside from her pride.
We met up with several other snowmobilers throughout the day, and every time, there were greetings and a visit with them to at least say "hi."  On our way back down off the hill, the trail from The Walls had been groomed, making it a much nicer trip back down, not having to dodge our way around clumps of snow that had dropped off of trees, and made excellent time back to the first cabin, where we signed out of the mountain, and then wandered our way back down the hill.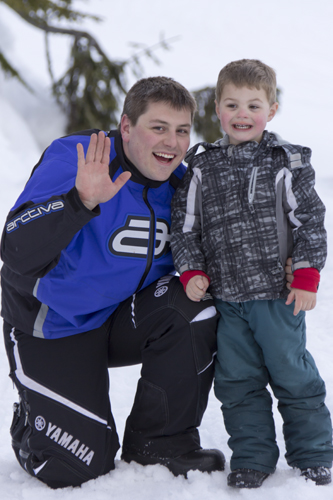 It must have been 15 degrees Celsius on the hill… We had fantastic weather, great people to spend the day with, snow that would let you do anything, very nearly, and scenery that is simply amazing.  It was one of the best Good Friday's I've ever had.