When you think of Sno Pro, the first thing that comes to mind is snappy powerplant and harsh suspension. However, for 2011, when I want a comfortable sled for going the long haul, few sleds match up to the new F8 Sno Pro from Cat.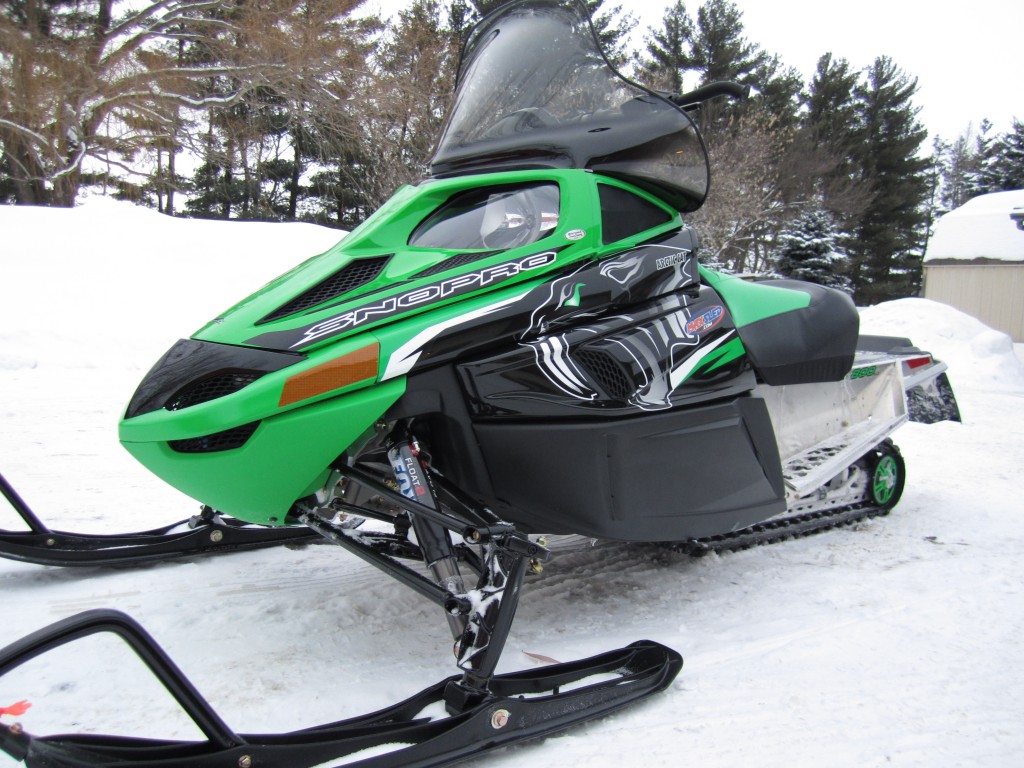 Everything about this machine exhumes comfort.  The adjustable handle bars fully adjust from straight back to a full vertical position to accommodate any type of rider and riding style. I was hitting some huge moguls and felt the handlebars move a little so a quick twist of the lever tightened it up one turn and then relocked securely.  I loved this feature and while ditch banging through county trails, I put them straight up so I could stand while crossing roads and going through town.  At 6'3", there are not many sleds I can stand comfortably on, but this is one.
Cat also has an adjustable seat on many models, with a guide track along the back side of the gas tank.  Pull the release lever on the back of the seat and within seconds you can slide it all the way back to stretch out the legs for a long cruise or slide it all the way up to raise the seat for a more aggressive riding position. One complaint I have with the seat is that the material is very slippery so leaning through tight trails does not feel as secure as some seats. After building snowmobiles for 50 years, you'd think they would have a material that's not too sticky and not too slippery. This is still work in progress. Another gripe is that it does not feel solidly locked into position unless you pull it all the way back. You can rock the seat slightly side to side.
A nice comfort feature on the Arctic Cat models is the large controls for the hand and thumb warmers.  With the left thumb, you can easily toggle between off, low and high settings without taking your eyes off the trail. Other brands should take note of this simple design.  These switches rock! The gauges are also the best in the biz, switch from analog to digital with a push of a button and are easy to read at any speed. I'm not sure why I need to know the alternator output in wattage though, but the electronic gas gauge is awesome and very accurate. One gripe I have is that the reverse button is somewhat awkward to get at and requires me to remove my gloves so that I can push in the button.
The engine is silky smooth through the entire powerband and almost had a four-stroke feel to the acceleration.  Less snap but more raw torque and top-end power. It accelerates quickly to triple digits when you hit an open lake or controlled field trail. Smooth and quiet. This snowmobile is a great choice for overnight tours and saddlebag trips.
The real comfort comes in the suspension.  The trails were choppy but the 136" track with Cat's rear suspension soaked up every one of them and always felt in full control. Switching back and forth from a 8 year old Pro X 600, really made you appreciate how far suspension technology has come. It does not have the extreme weight transfer of the Polaris Assault, but the ride quality is superior under all conditions.
The front end also felt more stable through the turns than the Assault. Locking the feet into the stirrups and leaning through the corners was a blast! Even at 6 degrees, it did not take long to work up a sweat and really enjoy the handling of this machine.
I thoroughly enjoy all models so it's always hard to pick a favorite. However when it comes to comfort, nothing has this machine beat. I am able to ride all day and while the others are soaking their muscles in the hot tub, I'm suited up for an evening ride.