I am a gadget person and love new technology. Yes, I could live in an unconnected world, but until that need arrives, I want to stay connected like everyone else. I also like the idea of going out for a ride, and coming home safe. I've been lost on the trails before, unprepared, and it does not bode well for a fun experience. I have taken many precautions since that experience, and one of them is always having a GPS with me.
Today, that GPS is my phone (I also carry an extra power pack with me). My phone is now my ride camera, communicator, entertainment device, and my GPS. It gets me there and back and can record my adventures along the way.
I used the RiderX app last season and had some issues with it. During one of my conversations with the app development team, I explained the items I had issue with and offered a sort-of wish list for future updates to the app. I was told that the new features in the RiderX app were a direct result from my input.
What does this have to do with the top ten things RiderX can do for you? I'll explain.
What is RiderX?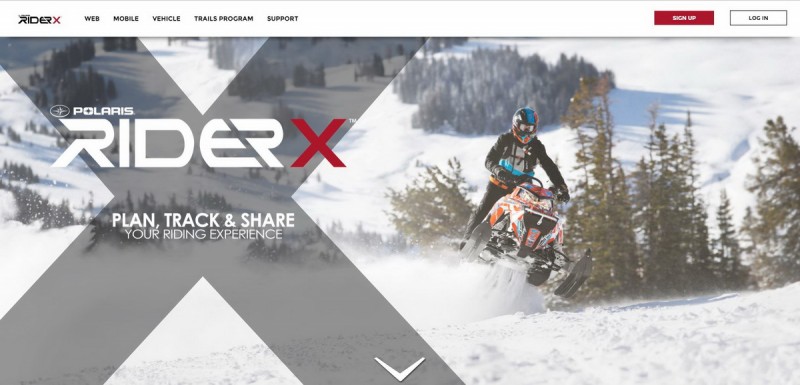 In 2013, Polaris acquired Primordial, Inc. Primordial developed a navigation software for the U.S. military and Polaris wanted to use that in the ATVs that they sell to them. They also saw an opportunity to develop a navigational system for consumers and out of this became RiderX.
RiderX is a mashup of tools that will give the outdoor powersports enthusiast a combination of trail maps, route planning, points of interest, sharing service, and vehicle maintenance schedules all in one arena. Whether you enjoy snowmobiling, riding ATVs, or motorcycles, you will benefit by setting up a RiderX account and using the app. Here are the top ten things RiderX can do for you.
1 – Offers an App for your Apple or Android Devices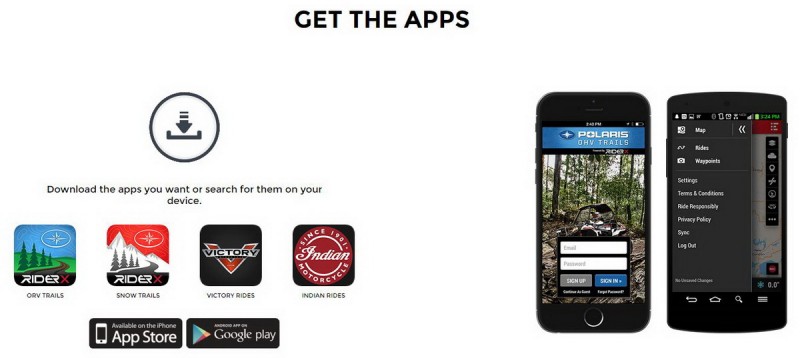 A big part of RiderX are their apps. They have an app for the snowmobiler, ATV rider, Slingshot owner, Victory motorcycle rider, and Indian motorcycle rider. Each app is available on Apple's iOS and Android devices. Sorry Windows, you'll have to work harder on your market share (currently about 4% worldwide) to get the app. I will confess that I have looked seriously at a Windows phone and really wanted to get one, but there are just too many apps that I use that aren't available on the platform, RiderX being one of them, and a major reason I did not get a new Windows phone.
While you do not need the app to take advantage of the RiderX web portal, it is essential while you are out tracking your rides. RiderX works best with iOS 7 or later, and Android 4 or later.
2 – Integrates with your device's GPS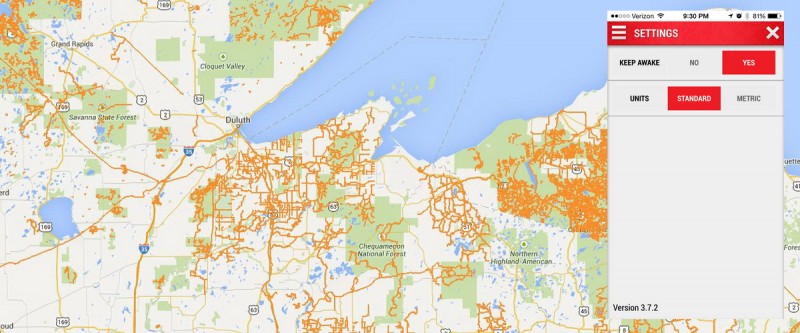 If you are using a smartphone it likely already has a dedicated GPS chip built in. This allows your phone to talk with GPS satellites and triangulate your location without having to be connected to a cell tower. RiderX utilizes your cell phone's GPS just like any GPS mapping app would.
As a side note, I asked the developers to include the ability for the app to override the phone's auto-lock so that the map can stay on the entire time, understanding that the GPS mode and the screen being on the entire time will drain the battery. This version has a toggle to give you the choice to keep the screen always on during the ride without having to go deeper into the phone's settings.
3– Features over 85% of the snowmobile and ATV trails in the U.S. and Canada

RiderX has worked with state and federal agencies to integrate most of the off-road trails in the United States and Canada. You no longer need to search for every state's map, pick up several paper maps, or fall victim to waterlogged maps that fall apart. I'm not advocating that you shouldn't support local clubs by buying their maps, but when you go off-map and don't have the adjacent map with you, you're just guessing. With RiderX, you don't have to guess because you'll always have a map available.
4 – Works offline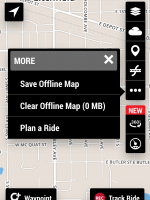 This is one of the issues I had with the RiderX app last season. You don't always have a cellular connection, and when you lost cell service or switched towers, you lost the map. RiderX now allows you to download maps to work offline. This way you won't lose your place. You can nearly always get GPS coverage, but not always cellular coverage. This way you can download the maps you need, and if you need more, just make sure you have a cellular data connection.
5 – Let's you plan your route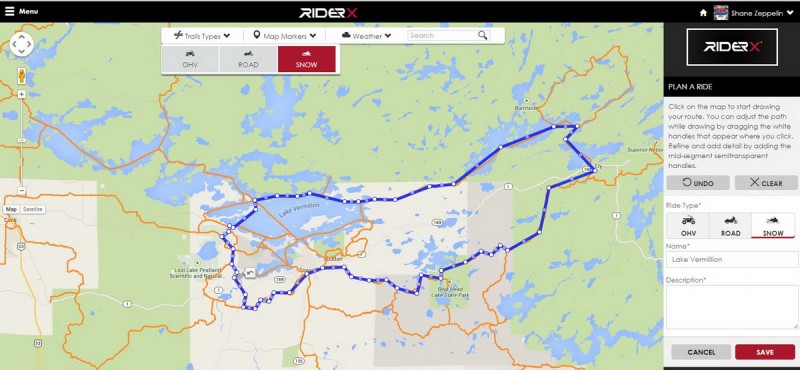 RiderX now let's you plan your route within your personal dashboard, and then download your ride to your device. This was one of my wish list items last year as well. You can go to your RiderX dashboard and configure your ride by drawing on the map and manipulating markers. You can save that route and get the approximate miles of that route and add waypoints. You can map out several rides and routes and save them. Then download them to your device and always stay on track. Not only that, but you can share that planned route with your RiderX friends.
6 – Records your rides

RiderX lets you record your ride and then upload your tracks to your dashboard. You can compare this to the area you rode in and see how well it matches up to your planned route or the trail system. All of this helps you better plan your ride next time or simply brag to your friends that you rode harder and longer than they did.
7 – Gives you weather and snow depth information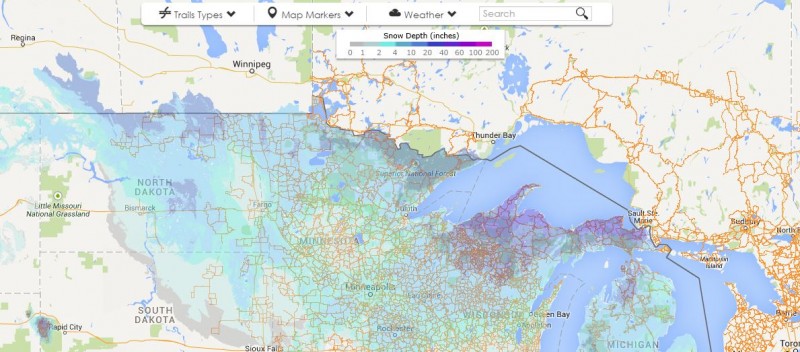 Every sledder wants to know the weather conditions and snow depth. Knowing what the weather will be doing during the day allows you to prepare how to dress, what to take with you, and how often you need to stop. The snow depth can help you plan a trip and you'll know what direction provides the best chance for the best snow.
8 – Shows lodging, eateries, and fuel POIs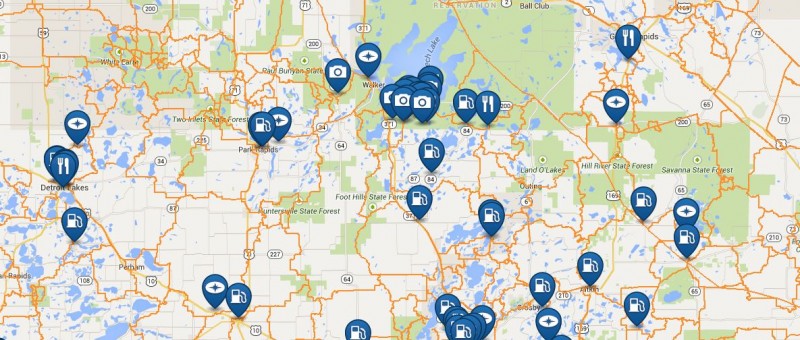 To further plan your trip, the app shows lodging areas, places to eat, and fuel stops. They even show where the nearest Polaris dealer is. And if you aren't a Polaris owner, chances are your brand is close and if not, a Polaris dealer could certainly get you back on the trail. Fuel stops are important and if you don't know where you are, it's nice to know where you can fuel up and not get stranded.
9 – Let's you share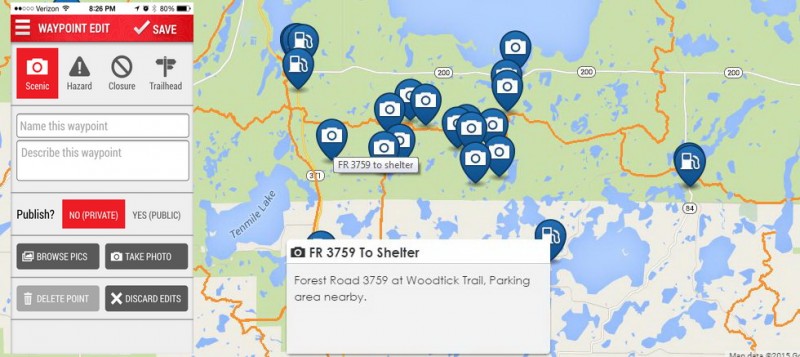 The RiderX app adds sharing to the mix. You can add a waypoint and either keep it private or make it public. You can mark it as scenic, a hazard, a closed trail, a trail head, and you can even take a photo and tie it to that waypoint. To help other snowmobilers, it's nice to make this waypoint public, but if you have a secret riding spot that you don't want others to find, you can keep your secret to yourself.
10 – Works with your local clubs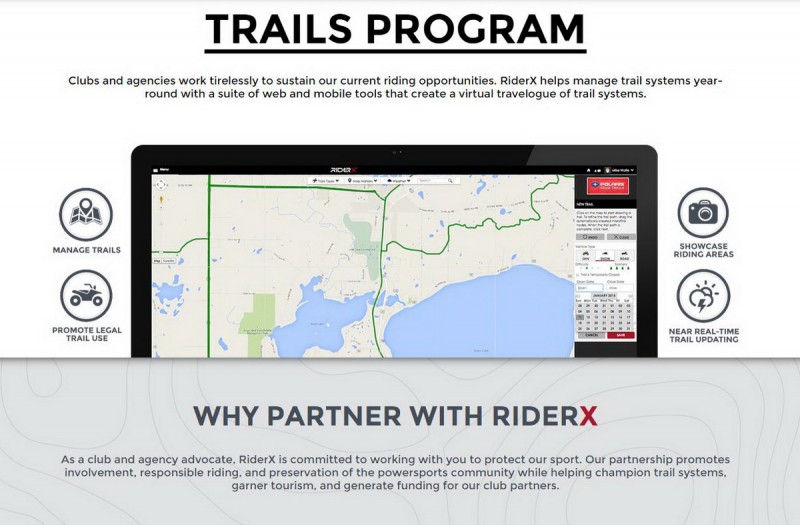 This suggestion came from a colleague of ours, Pat Bourgeois who writes for OSM magazine and Minnesota Snowmobiling. Snowmobiling is a grassroots sport and as such many of the trails we ride are maintained by local clubs and state organizations. Our clubs and organizations are run primarily by volunteers who put time and sweat equity into building our trail system. There are also hard costs associated with maintenance and grooming including the cost of a groomer, maintaining that groomer, fuel, buying signs, and much more. Clubs have fund raisers and one of those is selling advertising on trail maps.
Knowing that the future of paper trail maps is numbered, RiderX is working on ideas to work with local clubs to generate funding to help with costs and give clubs the ability to be part of the RiderX system. This not only helps them, but helps us continue to enjoy the sport we love. In the meantime, I encourage you to purchase a local club trail map just to support the trails you're riding, even if you end up using it to start the warming hut fire.
Wrap-up
Ok, yes, RiderX screams "Polaris" at you. Every page shows the Polaris logo and people having fun on a Polaris machine, but they made the investment and they are giving it away free. They should enjoy some return on their investment, even if it's just to show off their wares. Until your favorite brand comes out with their own version, RiderX simply is the best way to connect your phone and the trails, plan and upload a route, and share your experiences from a single app and device. If you are a Polaris vehicle owner, you can get even more out of RiderX. Read our bonus article here.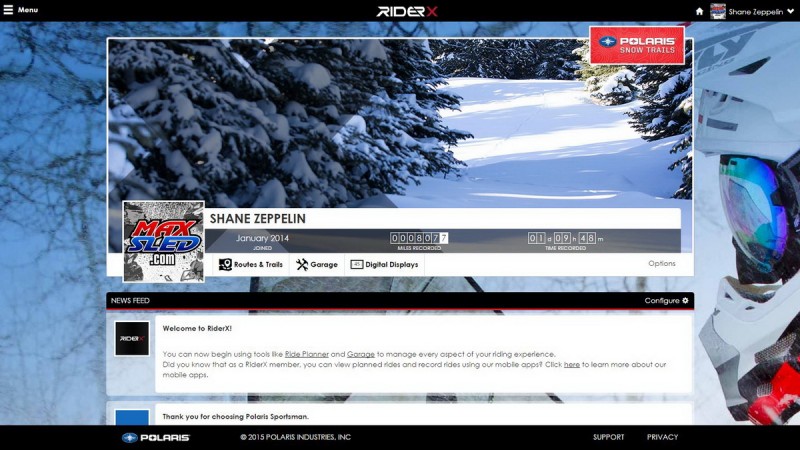 Find out more about RiderX at RiderX.com.