You might remember some time ago we did a little makeover on our Yamaha Attak. One of the areas that we addressed was the seating position that in our eyes has you sitting too low.  With the  help from our good friend Kent Teslow from A-Plus Upholstery,  we came up with a fantastic upgrade for our Attak.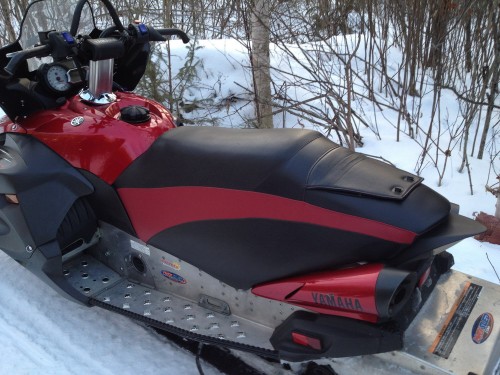 Now it took some time and a few different versions but with much patience on Kent's part, the seat was done. It looked amazing and worked great. At that point we thought the final chapter was written with the version we had. Now a little time passes and then something happened; I found myself riding the new Polaris snowmobiles and a light went off in my head.
The flatter and wider seat was just way too comfortable and I wondered 'could this work on our Attak?' So a phone call was placed to A-Plus Upholstery and after Kent  listen to my idea, he was more than happy to put together the final version of our project.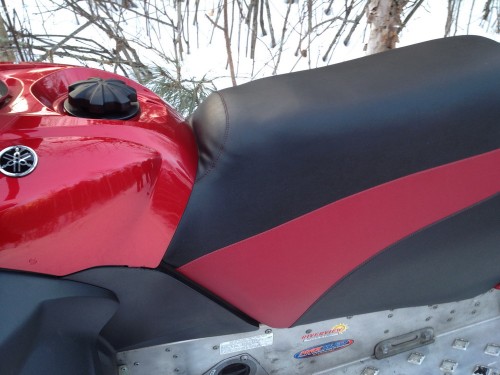 With this new design, we are still getting about 4-inches in height over the stock seat but this one is built flatter and wider. This makes it even more comfortable on longer rides. If I feel like wicking it up, I can still get up on the tank and let it all hang out or I can just sit back and cruise all day in comfort.
At the end of the day I'm sitting in a much better position and my legs and back are the better for it. Keep in mind that we have the Apex mountain riser block in the handle bars which bring our arms up, and this makes it a winning combination.
With  snowmobiles getting more expensive each year, this might just be a perfect way for you to update your older sled at an affordable price. The quality of the material and the workmanship is top-notch.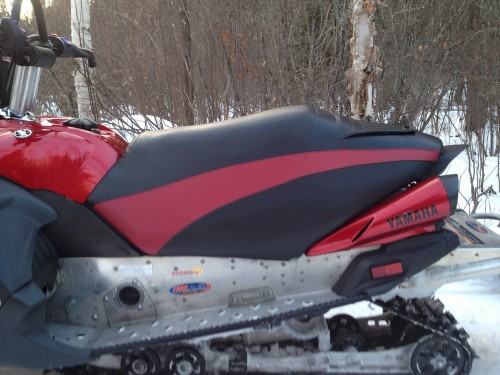 I like the way Kent can keep it looking like it came from the factory this way. He has many great ideas to help you get the seat that will work best for you and match your sled. A-Plus Upholstery has been great to work with on this project. If you would like ot upgrade your seat at an affordable price, contact them to see what they can do for you. They make custom seats for Yamaha, Polaris, Arctic Cat, and Ski- Doo snowmobile.  www.aplusupholstery.com. Tell them Randy from MaxSled.com sent you.