The time is now. The 2015 Polaris Snowmobiles are here. Well, at least the information is released. You'll have to wait until next fall to pick one up. Polaris is upping the ante and going all-in to take the snowmobile world by storm. They are celebrating 60-years of Terrain Domination and it all starts with AXYS.

What is it?
AXYS is a new platform and a whole lot more. You've seen the teasers. Polaris claims industry leading handling and performance. Polaris started with a clean slate to develop the AXYS platform. It hinges on three areas to deliver the snowmobile enthusiast the best to date in Rider-Balanced Control, Unrivaled Acceleration, and Rider-Centric Comfort.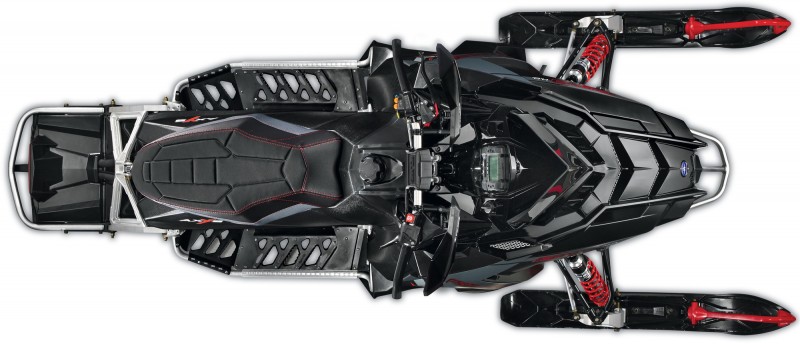 AXYS is a completely redesigned rear suspension, an all-new 800 H.O. engine (800-class models), significant weight reduction in the chassis, and new rider-centric designs for comfort, integrated storage, LED headlights, and a brand-new (MaxSled approved) full-color interactive digital gauge!
Where is it available?
AXYS will be available in several models for 2015, including RUSH and Switchback models. It will be available in two trim levels; dealer stocked PRO-S, and SnowCheck-only PRO-X.
AXYS Chassis
AXYS is an all-new chassis built with 97% new parts. Polaris engineers started with a clean screen and developed a chassis that centralizes mass, re-positions the rider, removes weight, and a redesign rear suspension. Yes, it looks based on the Pro-Ride chassis, but it is 97% enhanced.
AXYS offers the rider a flatter-cornering sled, more precise handling in all conditions, and better control in the bumps. With AXYS, the rider is repositioned to a more balanced position on the sled. We felt Polaris had its ergonomics about perfect before; we can't wait to try the AXYS. Vehicle mass is also more centralized on the new chassis.
The new rear suspension is a completely new geometry than the Pro-Ride before it. This progressive suspension features a lightweight forged aluminum rear crank, redesigned crank and pivot, and the front torque arm moved rearward to control pitch and increase travel.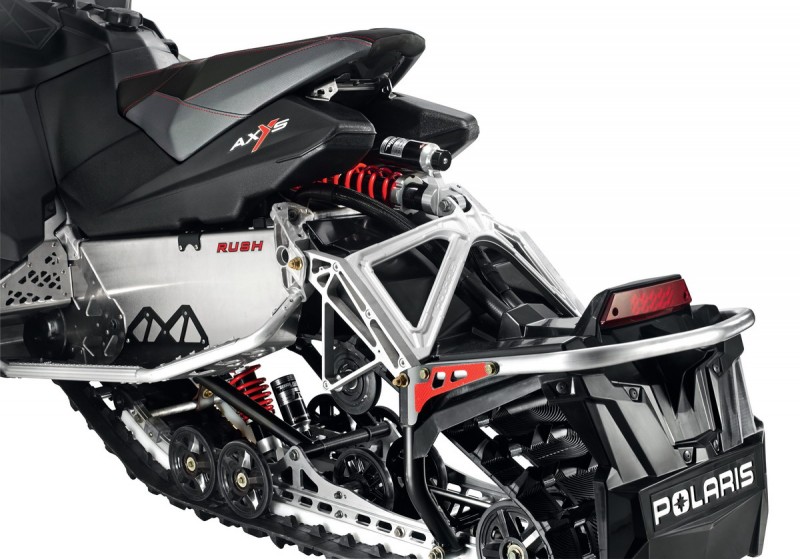 What does "Rider-Centric Comfort" mean?
It's a way of saying that it gives the rider a better overall experience. Wind protection is better, left-hand controls are improved, the seat is more comfortable, running boards have more room, storage is integrated, lights are brighter and last longer due to the industry's first LED Premium headlights, a brand-new color LCD digital gauge offers the rider more information, and overall fit and finish is improved.
Polaris has done a lot to reduce the minor annoyances that could interfere with the overall fun-factor when riding a new AXYS platform machine.
What's this about a High Output engine?
We know the 800 Indy is fast. Polaris's current 800 motor has gobs of power and is spot-on in throttle response. With AXYS, Polaris wanted to raise the bar so they built a new 800 H.O. engine to go with it.
This motor features a high-efficiency intake and exhaust with 3-stage electronically controlled exhaust valves. The oil pump is electronic instead of cable-controlled, making throttle pull 35% less effort, and delivering more precise mixture to the motor.
Engine weight was also reduced by 3.5 pounds with this new design. A thermostat with bypass system allows the engine to warm up 40% faster, and a new throttle body reduces throttle effort even more.
Airflow to the motor has been improved, which increases the power output, as does a lighter-weight crankshaft. At the time of this writing, Polaris hasn't revealed the HP numbers.
All-New Gauge
We wrote an article about this without knowing what Polaris was going to reveal during their media Sneak Peek event. This industry-first digital gauge is what we were talking about. This full-color instrument will provide the rider with tons of useful information including riding conditions, air temperature, time of day, sled operating conditions like fuel level, oil temperature, and diagnostics and maintenance warnings. Of course it is still a speedometer and tachometer and offers dual trip meters and odometer, but it does so much more.
This gauge has built-in GPS and Mapping capability (about time). A compass is standard, but a full-featured GPS can be installed and provides much the same information that Polaris's RiderX App does.
The screen can be customized to suit the rider's preferences. It also has Bluetooth functionality, enabling the gauge to communicate with a rider's cell phone and provide notification of incoming texts or calls. The downside is that this gauge is only available on the 60th Anniversary models.
PRO-S vs PRO-X
These two models are geared toward different riding styles. The PRO-S will be available in-season and is calibrated for the demanding trail rider, who wants a smoother ride over the stutter bumps and precise flat cornering. It has Walker-Evans Clicker shocks and a 1.25" lug Ripsaw II track.
The PRO-X is only available if you SnowCheck and is calibrated for the rider who wants big-bump control in the ditches and moguls and leans towards stand-up riding style. This package has Walker Evans Clicker shocks with a 1.75" lug Backcountry X track.
Available Models
For the short-trackers (120"), Polaris is offering the AXYS platform in the 800 RUSH PRO-X, 800 RUSH PRO-S and 600 RUSH PRO-S. In the Switchback (137"), the AXYS will be available in the 800 Switchback PRO-X, 800 Switchback PRO-S, 600 Switchback PRO-S, and 600 Switchback Adventure. All of these are also available in SnowCheck-only limited 60th Anniversary editions as well.
More INDY
The INDY is available with all three of Polaris's engines (550 Fan, 600, and 800 liquid). New is the INDY Voyager 155 and Adventure 155, which offers a 155" track and articulating suspension. These models are available with the 550 fan engine only.
The rest of the INDY lineup includes 550 LXT 144, 550 Adventure 144, 550 Voyager 144, 600 Voyager 144, 600, 600 SP, 800, 800 SP along with two 60th Anniversary models.
While the IQ models are designed for touring, if you are someone who likes a convertible to go solo riding or two-up riding, you will want to look at the Indy Adventure or LXT.
We love our 2014 800 INDY SP. It's lightweight, fast, easy to handle, provides a fun-factor second to none, and offers a perfect no-frills ride for the money. For 2015 there's a package to suit most everyone's desires.
Oh, and we should mention that the INDY is available for the younglings in a 120 version, too.

RMK & Switchback ASSAULT
Polaris continues to dominate the mountains with their RMKs. They are built on the PRO-RIDE RMK light and rigid chassis. This chassis lets the rider carve through the powder and slice the hills with precision and control.
For 2015, Polaris is offering nine deep-snow models; 800 RMK 155, 800 PRO-RMK 155, 800 RMK Assault 155, 800 PRO-RMK 163, 600 RMK 144, 600 RMK 155, 600 PRO-RMK 155, 600 Switchback Assault 144, and 800 Switchback Assault 144.
Specifications remain similar to last year, but there are several combinations and options to create a truly unique deep-snow sled that you can call you own. For 2015, there is truly a different sled for everyone with Polaris's SnowCheck Select program. They say there are more than 20,000 combinations to order your Deep Snow sled. You choose your sled, choose your color, and then choose from several options. Then further customize your sled with Polaris's accessories such as bumpers, skid plates, running boards and more.
IQ
Polaris continues the IQ chassis for the tour or professional work riders. While nothing has changed in this chassis, they are rugged and designed well. The IQ is available in two models; 600 IQ LXT and 600 IQ Widetrack.
WRAP-UP
The big news is, of course, the AXYS platform. Polaris is going all-in by stating this as the chassis to beat. They are telling us that it is lighter weight, more ergonomic, easier to ride, more comfortable, and has more power with the 800 H.O. The new gauge is something we are drooling over.
We like the direction Polaris is taking when it comes to model offerings. They are keeping it simple; For trail and ditch it's the AXYS RUSH and Switchback and INDY; For deep snow it's the RMK and Switchback Assault, For touring it's the IQ. From there they offer 3 different engines, and then you can pick a color and options.
Go to the upcoming Sneak Peek in your area to see one in person, and then go to your dealer to SnowCheck a brand new 2015. Chances are next year we'll have as good a winter as we had this year. Even better on a Polaris.