Everyone wants a piece of him: racers want to beat him, sponsors want to sign him and fans want to get close to him. Now everyone can get his ProCross F800 Race Replica snowmobile. Designed, signed and given the stamp of approval by #68 him, Tucker Hibbert has introduced the gnarliest snowmobile bolted to white skis!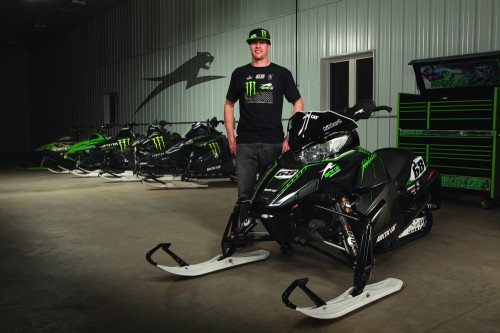 The Tucker Hibbert Race Replica is a consumer version of the race-winning ProCross Sno Pro that carries Tucker to victory, equipped with competition-spec components like Kashima Coated Fox Float EVOL X ski shocks; white trail skis, number plates, a low custom race-cut windshield, handguards, an aggressive non-slip seat cover and exclusive race-inspired graphics. The race-version of the Slide-Action rear suspension has white powder coated rails, complete with Fox Zero X shocks featuring remote reservoirs and clicker adjustments.
The platform for the Tucker Hibbert Race Replica's superiority is the ultra-light and tough ProCross chassis, with the front Arctic Race Suspension offering the ultimate precision and steering control. With 10 inches of travel up front and 13.5 inches at the rear, Tucker's Race Replica is tuned to blast bumps and withstand even the hardest landings.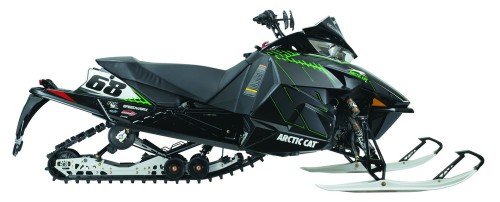 Powering this limited-edition snowmobile is the 160-plus hp 800 H.O. 2-stroke engine featuring batteryless EFI, electronic APV valves and Exhaust Pipe Temperature Sensor. With the Arctic Drive System and Torque Control Link putting all the power to the 15 x 128 x 1.25-in. Ripsaw track.
It's only available in Tucker's signature color, black/black.
Tucker's low race-cut windshield, number plates, handguards, aggressive non-slip seat cover, white trail skis, white suspension rails and exclusive race-inspired graphics
Fox Float EVOL X Kashima Coated shocks on the front suspension featuring adjustable compression and rebound
Race Version Slide-Action rear suspension with 7-position coupling
Fox Zero X remote reservoir shocks on rear suspension featuring adjustable dampening
ProCross Chassis
160-plus hp 800 High Output 2-stroke engine w/ EFI, APV valves and EPTS
Arctic Drive System (ADS) with Torque Control Link
Race Version RMC Hydraulic Braking System with lightweight disc, race pads and 9/16 master cylinder
Arctic Race Suspension (ARS) front suspension
Tapered 2-Piece Tunnel
Race running board edge rolls
Race running board reinforcements
15 x 128 x 1.25-in. 2-ply Ripsaw track
Deluxe digital/analog gauge
Tether switch
Push-button engine reverse
Download the PDF here.