There are two cancer organizations to get behind if you are a snowmobiler. One is the Snowball Cancer by the Keller Family Community Foundation, supported by Yamaha (snowballcancer.org), and the other is the Pink Ribbon Riders supported the past few years by Polaris. When Polaris introduced the Pink Ribbon Riders edition of their Rush Pro-S model, the MaxSled Team had to get one.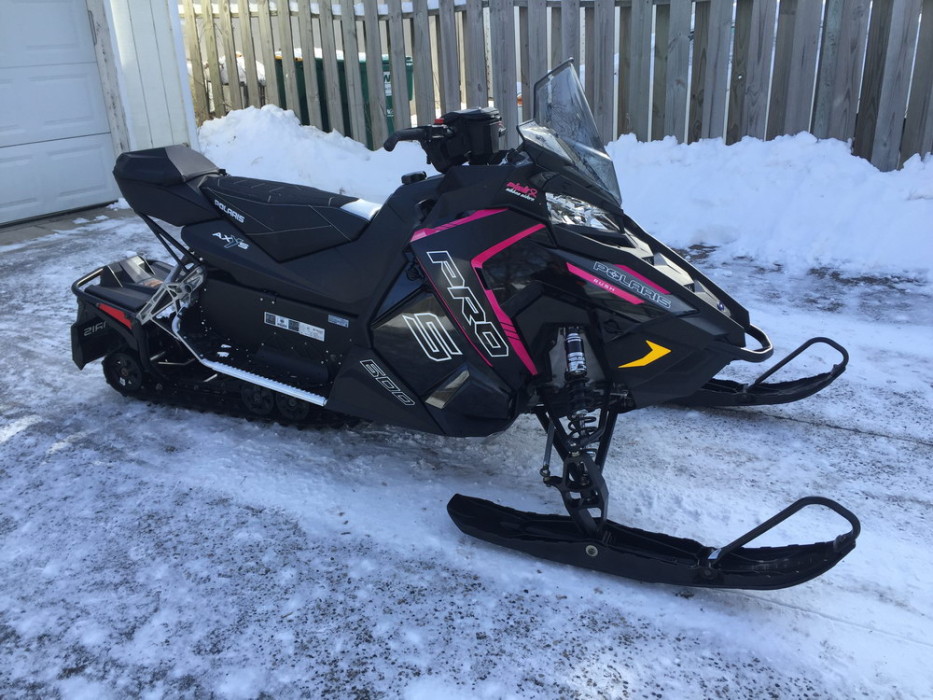 MaxSled has written numerous times about the Pink Ribbon Riders. Do a search on our web site and you can read about our past rides and stories we've done about the cause. In short, we believe wholly in the Pink Ribbon Riders and we are excited that Polaris has offered a special edition snowmobile in their honor.
Base Model Information
Of all the Pink Ribbon Rides we've been to, we've noticed one thing; most of the snowmobilers who participate are seasoned riders. Sure, there are a few beginners and some couples on touring sleds, but for the most part, they are well-groomed and performance demanding riders. To build the Pink Ribbon sled on anything less than an AXYS chassis would be an insult to the participants.
Sure, you could slap on some pink decals on a baseline model and call it a day, but then what would the incentive be to actually get one of these sold? No, the marketing group at Polaris knows what they are doing. In fact, this sled is built for the serious rider; man or woman. That's why you could have gotten it on the RMK, Rush, and Switchback models if you ordered it during SnowCheck.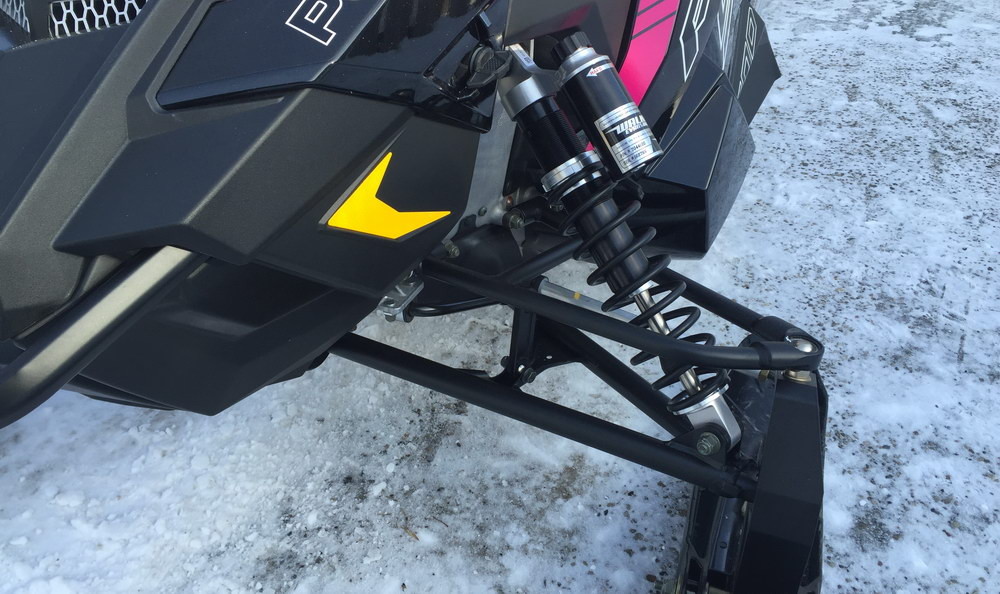 The AXYS chassis and suspension are the most technological designs to date. This system allows the sled to corner flat, I mean flat like the sleds of the 90's flat. Ergonomics are spot-on and this sled rides softer than any sled I've ridden to date. It all has to do with the entire package of rider position, rider control and suspension design. It's what Polaris calls "Rider Balanced" and we couldn't agree more.
Other items that stand out on this chassis are the Polaris Interactive Digital Display with GPS, which I used extensively on our season-first trail ride where the trails were not groomed and the markers were hard to see with the blowing snow. If I got a little off track, the GPS map showed me where the trail went and I was soon back at it.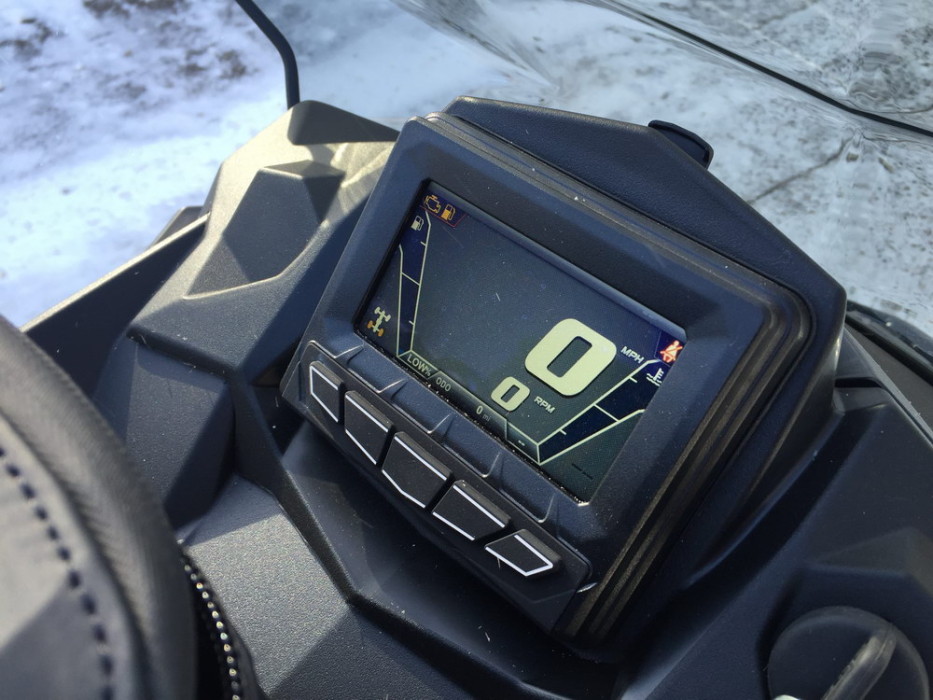 Another stand-out feature is the bright LED lights. These pierce right through the snow and enable you to ride a little more at ease in the dark due to their wide illumination.
And we love the heated storage area right behind the windshield. Put a pair of gloves in there or another set of goggles and you can ride longer in the frigid cold air.
We've already written about the AXYS chassis here, but suffice it to say we are elated that the Pink Ribbon Riders Edition was available in this chassis.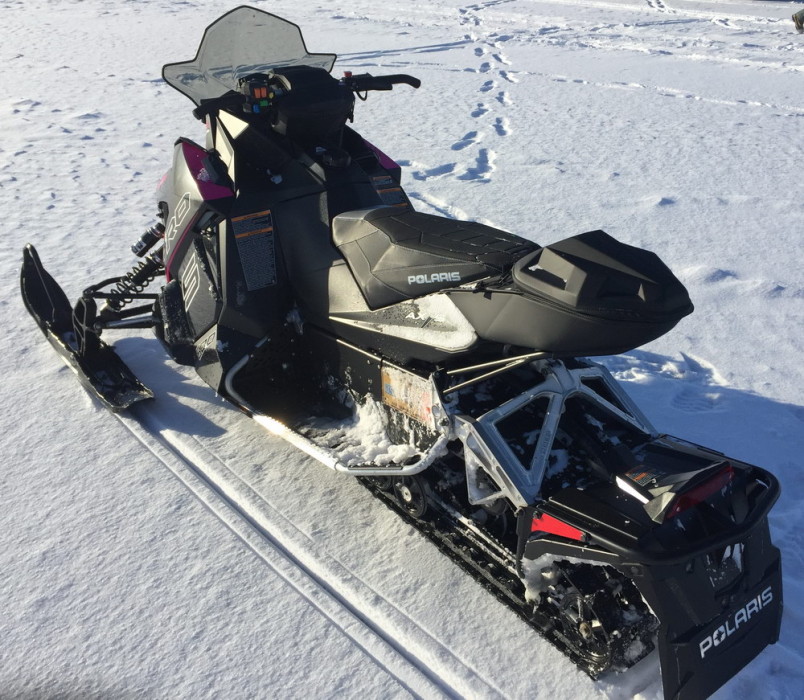 Basing the PRR Edition on the Pro-S setup is ideal for most riders. It includes a suspension and shock package designed for the sit-down rider to soak up the bumps, corner flat, and handle well. I found on my ride that out-of-the-box performance was near perfect, although I will need to make a slight rear suspension adjustment to accommodate my riding style. For comparison, my brother and I switched for a bit and I rode his 1994 VMax. Nope, the Polaris AXYS rode much better.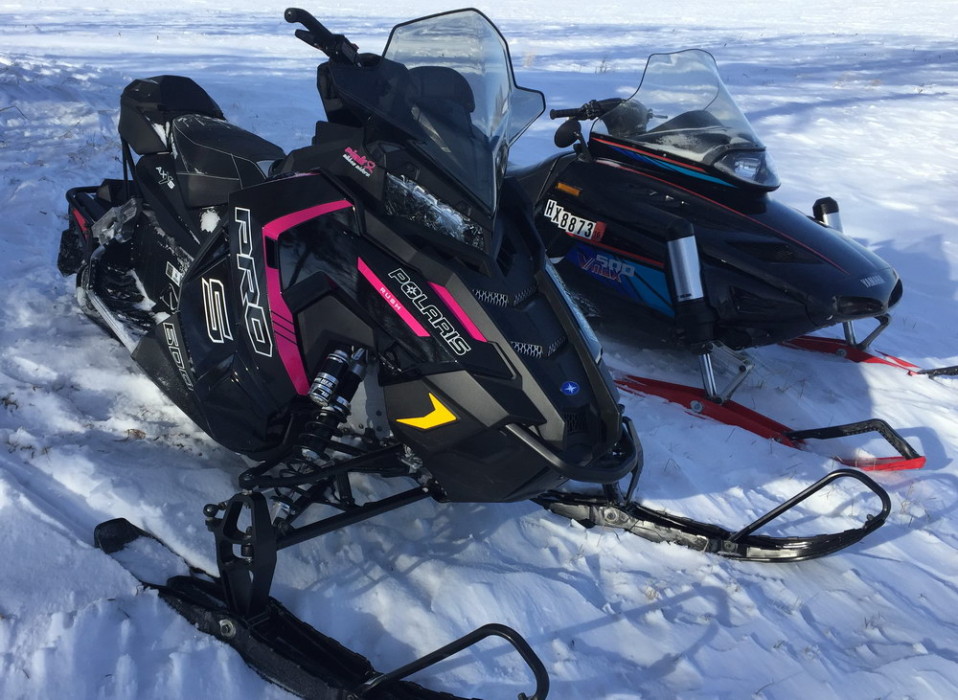 Pink Ribbon Additions
Polaris is no stranger to pink. Back in 1992, they adorned the Indy 500 SP EFI with pink decals. It was a sharp looking sled. This year's Pink Ribbon Rider Edition looks even sharper. The graphics aren't just pink pinstripes and a ribbon, nor are they loud splashes of extreme-rider wannabe gaudiness. These graphics are technical and sophisticated to appeal to the snowmobiler whose been there and done that; the rider who isn't a fad follower. There are subtle nuances of carbon fiber behind the POLARIS emblem, and there is just the right amount of pink on the multi-colored metal flake high-gloss black paint.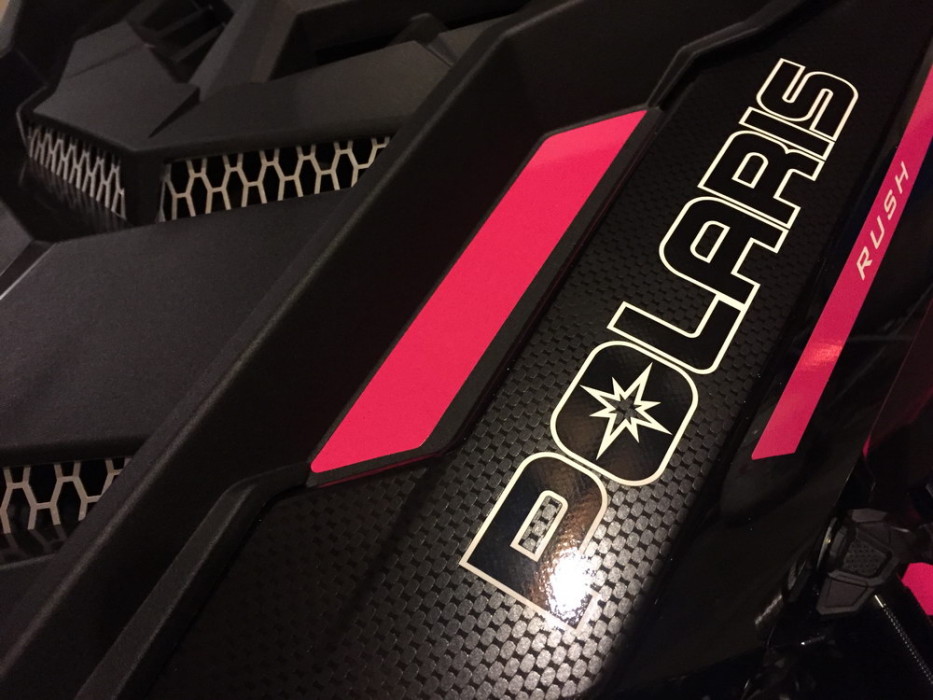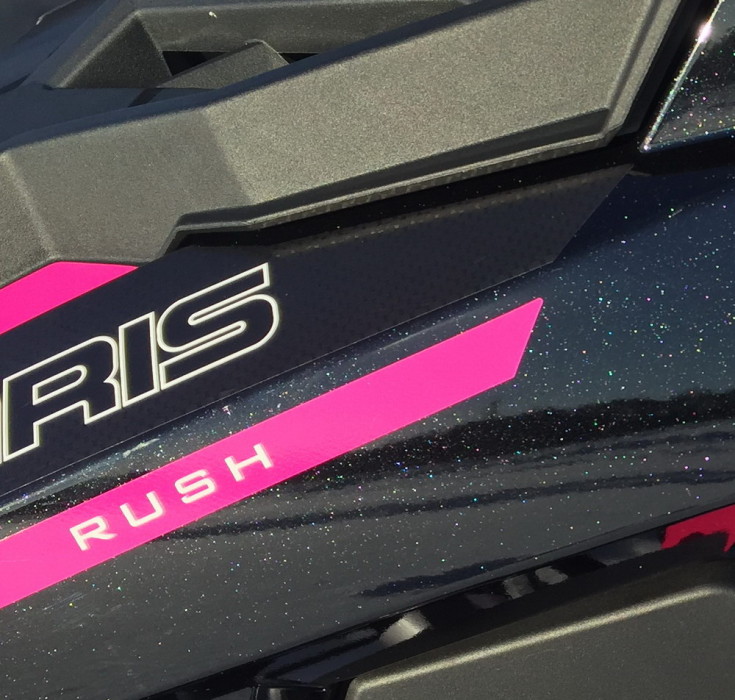 Black powder-coated tunnel, slide rails, and spindles adds even more appeal. We also got the new rear storage and handlebar storage options. This adds a lot of storage area without adding bulk to detracting from the great looks of the sled. This model comes with electric start which is now a convenient "must" for sleds our team rides. While the pull-rope starts in just 2 pulls, turning a key is still easier. We also opted for the mid-height windshield because while the low windshields look cool standing still, being cold isn't cool. Comfort trumps cool every time.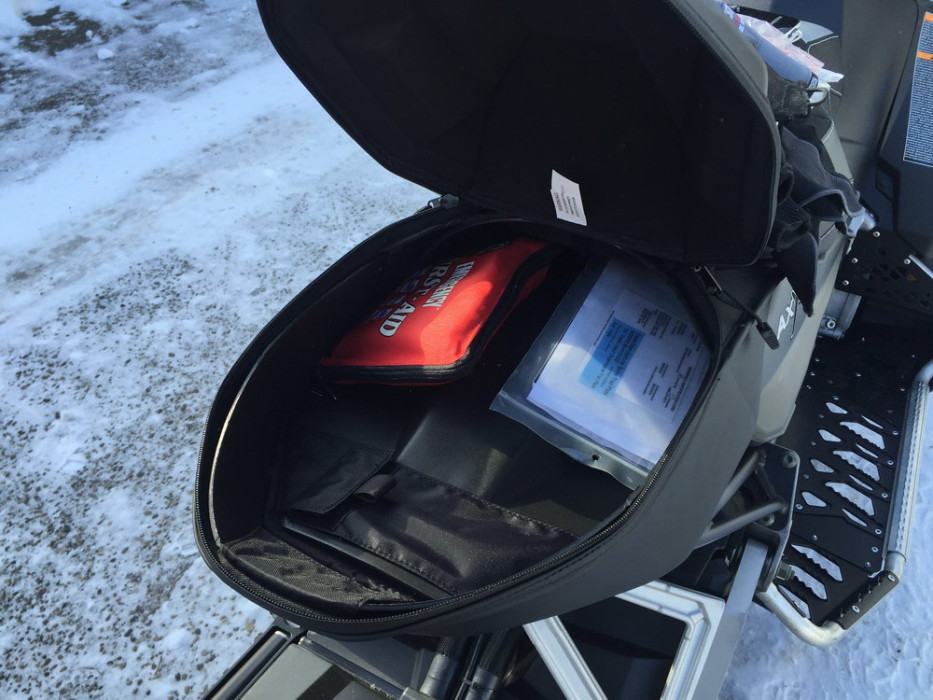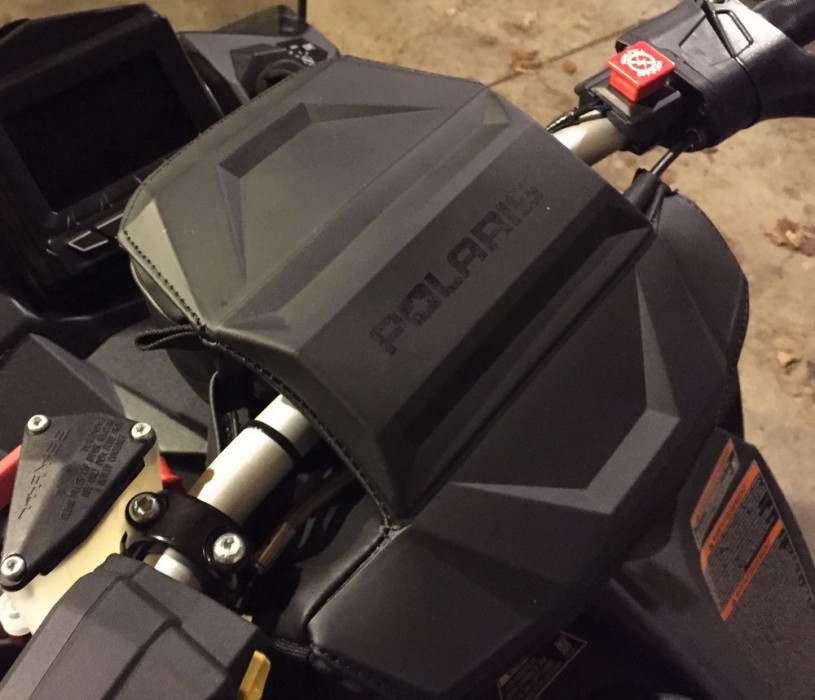 What We Like
We've ridden this chassis now for two seasons and there isn't anything to really complain about. We love the seating position on this sled, we love the handlebars, and especially the new left switch pod. It's intuitive and simple to use. The lighting is second to none, the performance is right there (ours is the 600), and there's plenty of storage with the added bags. The only thing we missed, and we didn't realize, is a 12v power point and 12v heated shield plug. These can be added, but would have been nice factory installed.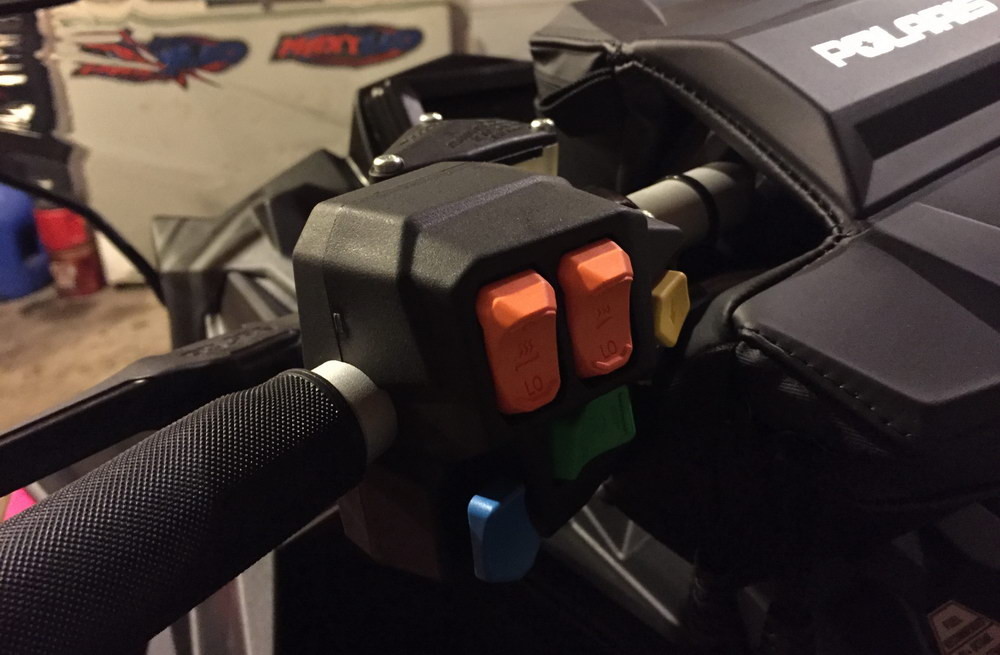 As we ride throughout the season, we will report on more findings, but for now we are very happy with this model.
Can I Get One?
Polaris donated to the Pink Ribbon Riders a portion of the profit from every Pink Ribbon Rider Edition sold. If you SnowChecked one, not only did you get a feature packed top-of-the-line sled from Polaris in a very cool color scheme, but you also helped the Pink Ribbon Riders at no extra cost. But don't stop there, you can still help the Pink Ribbon Riders by clicking this link and donating.
Miss out on this special model? There is still a chance to get one. Simply go here and purchase a ticket for your chance to win one. Tickets are only $20 (if you order online there is a processing fee), and only 1300 tickets are sold.
If Polaris offers a PRR package for 2017, we highly encourage you to take advantage of it.