It's been a long time since we've given out any choice awards, so we thought maybe it's time we named names and did it for the 2017 models. We've seen and ridden the new machines, so now it's time to roll out the red carpet, put on our best (snowmobile) suits, splash on a little cologne (Flora de' Oil), and give you our MaxSled Snowmobile Brand Choice Awards for the 2017 snowmobiles. We award each brand in several categories based on criteria we feel is important, and then pick an overall winner. So cue the music, dim the lights, and bring out the sledder champagne (beer), let's begin giving our awards!
---
Most Improved Engine

Winner: Yamaha

Runner-up: Ski-Doo
This was a close call. In fact, we debated about this over and over. Both companies have new engines for next season.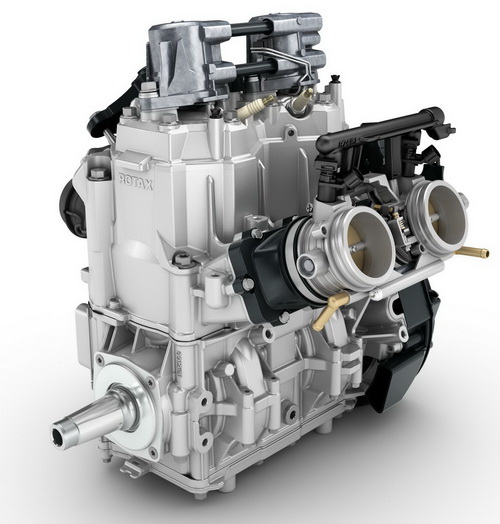 Ski-Doo continues to improve the 2-stroke engine and has shown us that it can be as clean and efficient, and nearly as powerful with one less cylinder and no turbo. The 850 E-Tec offers a 30% quicker throttle response, second-generation direct injection system, throttle body positioned closer to the cylinder, new cylinder ring design, new exhaust, direct oil crank, and more. It is definitely an improvement over the 800 H.O. E-Tec and is, according to the numbers, the most powerful snowmobile production 2-stroke engine to date.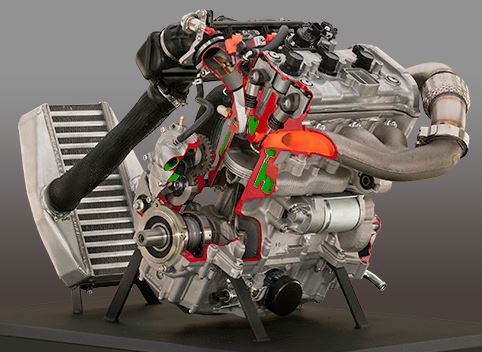 Yamaha has shown us that the 4-stroke motor is a viable power source for snowmobiles, and they've designed several over the last decade. The new 4-stroke 998 Turbo is very impressive with ceramic coated cylinder walls, lightweight forged turbo-crowned pistons, piston oil cooling system, pressed forged crankshaft, hydraulic cam chain adjuster, new turbo unit, and precise engine braking control. It makes the sleds it is in feel light and is the hands-down winner on a wide-open slope or across a lake.
While Ski-Doo's engine is a big improvement, the team felt that Yamaha's engine was a slightly better improvement overall in power and feel. Like we said, this one was probably the toughest award to call, as they both have significant improvements.
---
Most Improved Chassis

Winner: Ski-Doo

Runner-up: Polaris
Picking the winner for this category was easy as Ski-Doo did a lot to improve their chassis with the Gen4 release. It all adds up to a lot of improvements over the last generations. The fit is better and there are a lot of other well thought-out design features in the new generation that make it the most improved.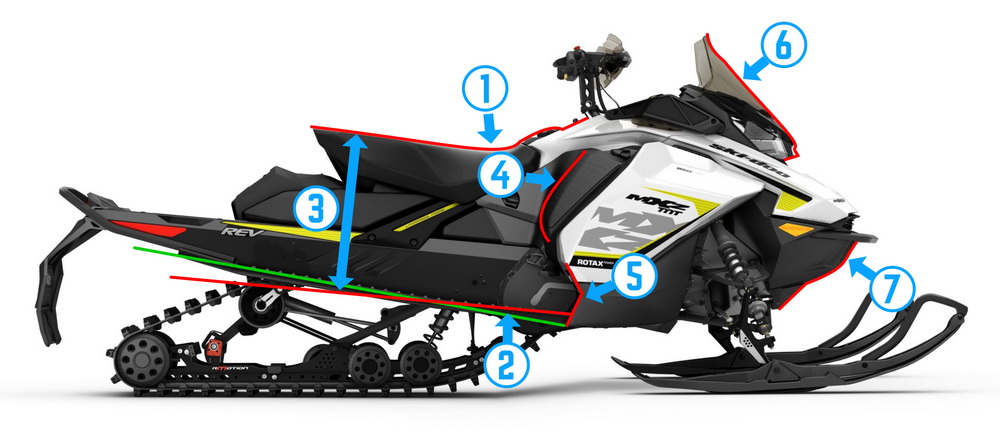 It was much harder to choose the runner-up, as the other three have also done chassis improvements. Arctic Cat and Yamaha have the same basic chassis with different skin, and Polaris has the AXYS, which isn't new, but is a much improved chassis over its previous generation. Because of that reason, we had to pick the Polaris since they have more models in the improved AXYS chassis in 2017.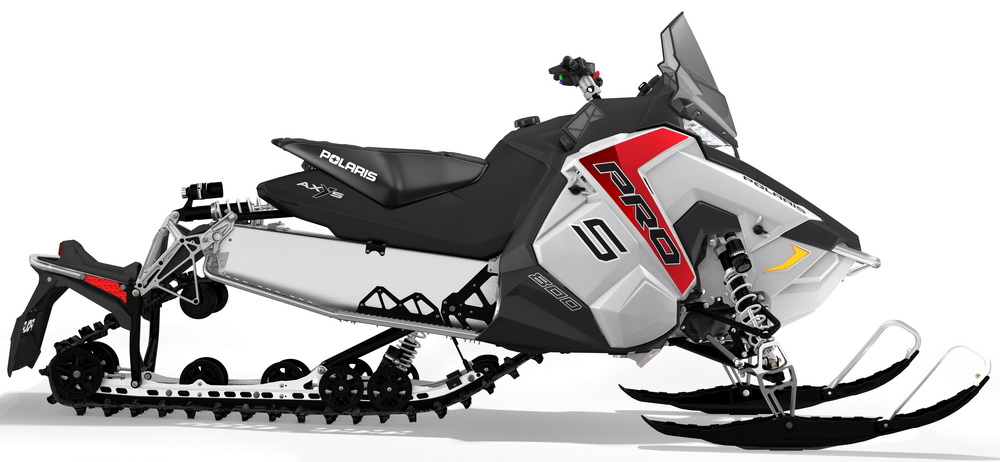 ---
Most Package Choices

Winner: Arctic Cat

Runner-up: Ski-Doo
When it comes to the sheer variety of package choices (chassis/track/suspension/engine), Arctic Cat surprised us with over 75. That is a lot. Ski-Doo has the next closest with around 70. This does make it tough to choose which model you want to consider. Yamaha and Polaris make things simple, and still cover all aspects of snowmobiling. But this category is simply about overall package choices and Arctic Cat wins.
This being said, every brand offers options and upgrades that will give you the exact snowmobile you want. Choosing which combination and options you want for 2017 is harder than it ever has been.
---
Most Customizable

Winner: Polaris

Runner-up: Ski-Doo
Polaris wins this one hands-down with their Snowcheck Select Factory Customization plan. It's the most customizable way to buy a new sled to date. You pick the model, and from there you pick the trim package, engine size, track, and color combinations. You're not done there, either. You go on to select your starting option, windshield and handguard option, shock package, handlebars, and gauge. Be forewarned; the price goes up as you continue to add to the base, but you will get exactly the sled you want.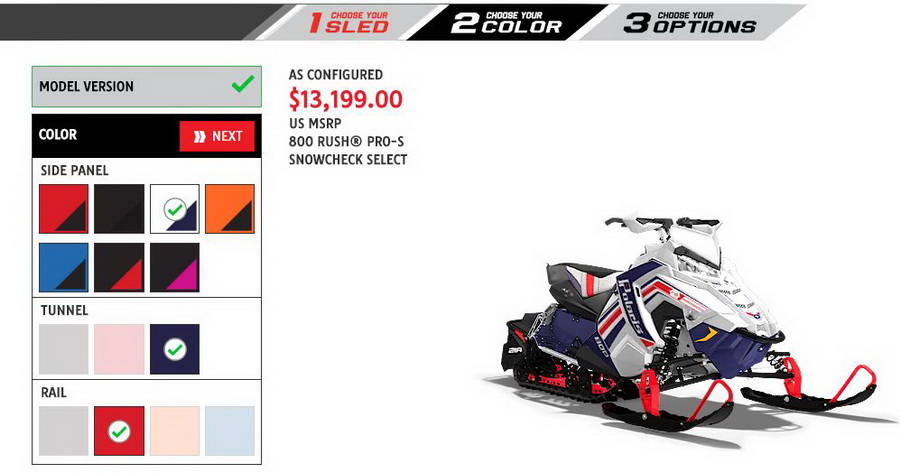 Ski-Doo's approach is similar, but you are limited in color choice and options.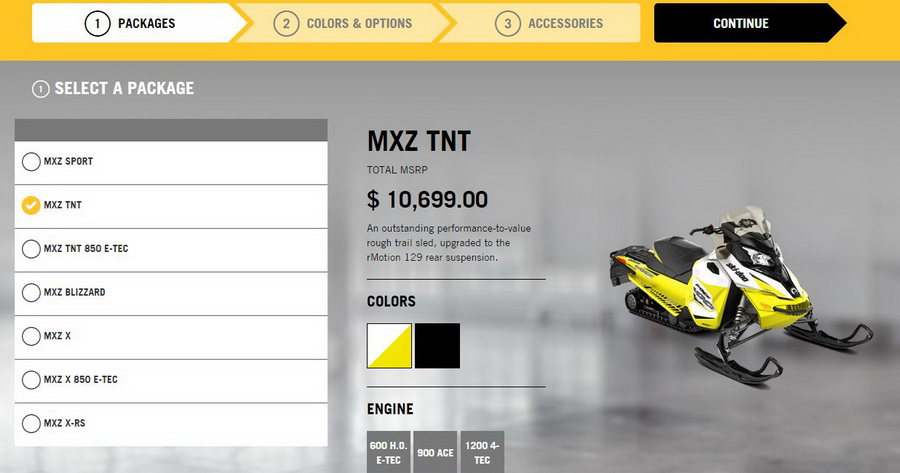 ---
Best Gauges

Winner: Polaris

Runner-up: Polaris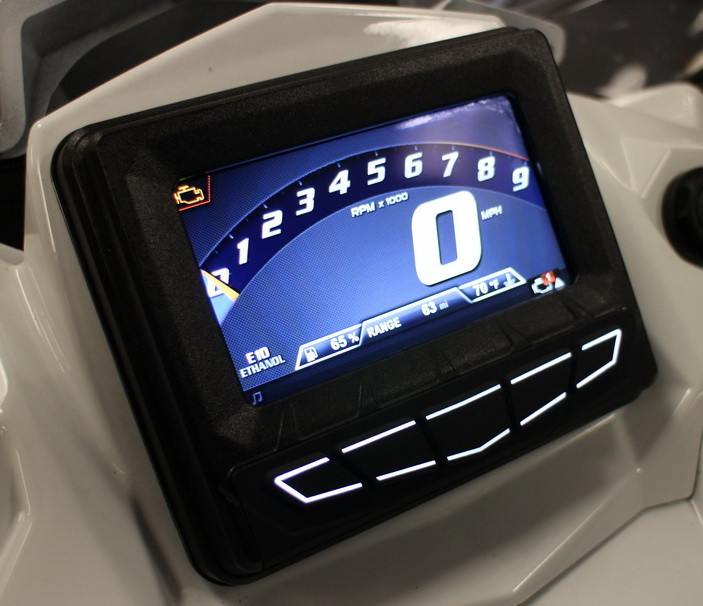 What is this, a trick question? We talked about an interactive display gauge on a snowmobile since the iPhone came out. We wrote about it just before Polaris introduced their PIDD, and we fell in love with this gauge ever since first laying eyes on it. There simply is no better OEM gauge available. You could argue that all you need is speed and a tach, and some might even say the speedo is optional, but once you have GPS on your dash with the snowmobile trails built in, you can't go back to using anything else (figuratively speaking).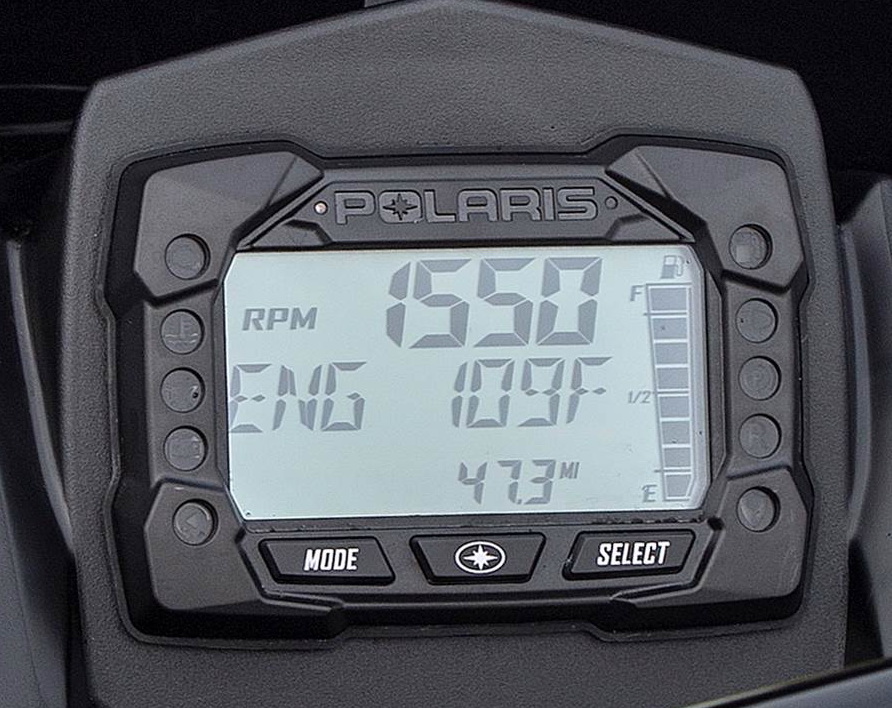 Ok, so spending a huge coin on the PIDD isn't your style and you can live without GPS, so what's the next best gauge? Well, with Polaris coming out with their new MessageCenter Gauge, they have the best gauges across the board. The others have good gauges, but Polaris has the two best gauges available to date.
---
Best Ergonomics

Winner: Polaris

Runner-up: Ski-Doo
Ergonomics is a tough one to chase. The relationship between your feet, knees, butt, hands, and head are what constitutes ergos. All of the brands have good ergonomics, but we think the Polaris AXYS chassis is as close to perfect as you're going to currently get. When you sit on the AXYS, your back is straight, your arms are just below shoulder level, your legs are 90-degrees and your feet are straight below the knees. You can adjust from here forward or back and still feel comfortable.
On the Arctic Cats (and Cat built Yamahas) we feel you still sit a little low in the seat, and on the older Yamaha chassis, the seat is even lower yet. Ski-Doo has gotten much better with the new GEN4 REV, but not quite the same as Polaris, which is why it's our runner-up.
Because people are sized and ride differently, your results may vary, but with our team, Polaris fits us best overall.
---
Best Shock Package

Winner: Polaris (Walker Evans)

Runner-up: Ski-Doo (KYB)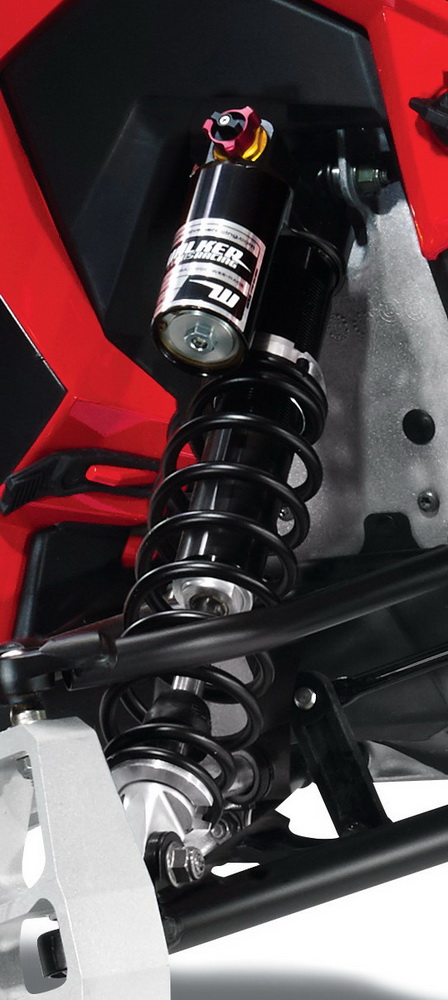 Fox makes great shocks and their new QS3 shock makes adjustment quick and easy, but for some reason (and we suspect suspension geometry plays a huge role), the Walker Evans on Polaris's XCR and other models seems to work near flawless. They soak up the stutters and handle the biggun's just as well. This package gives the trail rider very controlled steering with little dip and roll on a fast trail.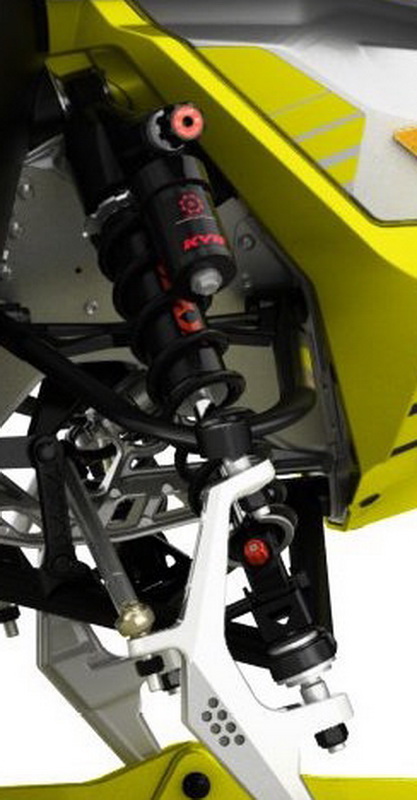 Ski-Doo also has a great shock package in the MX-Z with the rMotion Quick Adjust system and KYB Pro setup. Our riders felt this to be the next best to the Walker Evans.
---
Best Headlight

Winner: Polaris

Runner-up: Ski-Doo
When we first rode with LED headlights on the AXYS last year, we fell in love with them. They illuminate the night trail like a full moon over a clear sky. Light is bright and even, and in a whiter color temperature than even halogens. Plus, LEDs last a long time so changing "bulbs" is a thing of the past and wattage draw is minimal, giving you more juice to run your digital gauge. We were hopeful that other brands would come out with LEDs, but they haven't yet.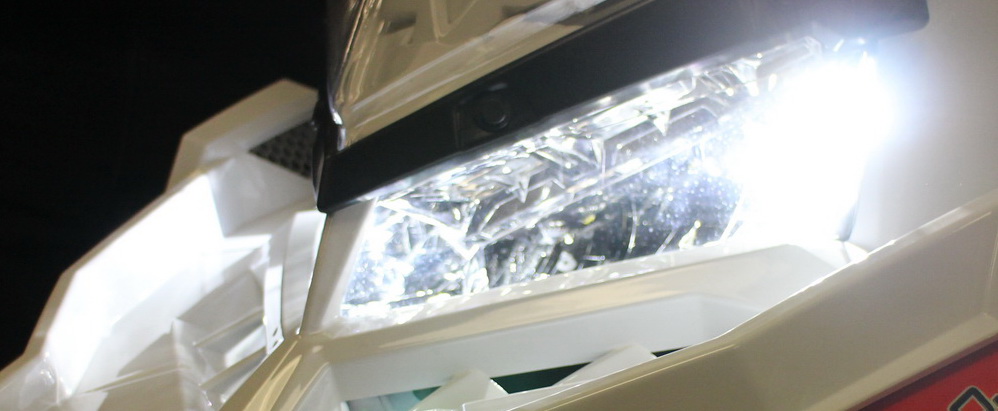 Except Ski-Doo, which offers LEDs as an auxiliary light and gives them a runner-up spot for at least offering them.

---
Best Looking Sled

Winner: Yamaha Sidewinder

Runner-up: Polaris XCR
This is another purely subjective category, but you have to admit that the Sidewinder is a pretty darn cool looking sled, and one that will turn heads. Our favorites are the blue/white or red/white combinations.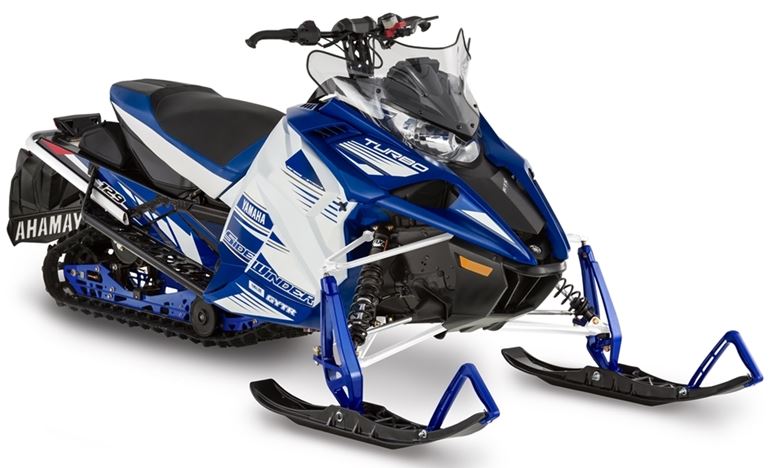 A close second has to be the Polaris XCR. The red and black combination (and the red tunnel) on that model is stunning, especially on snow.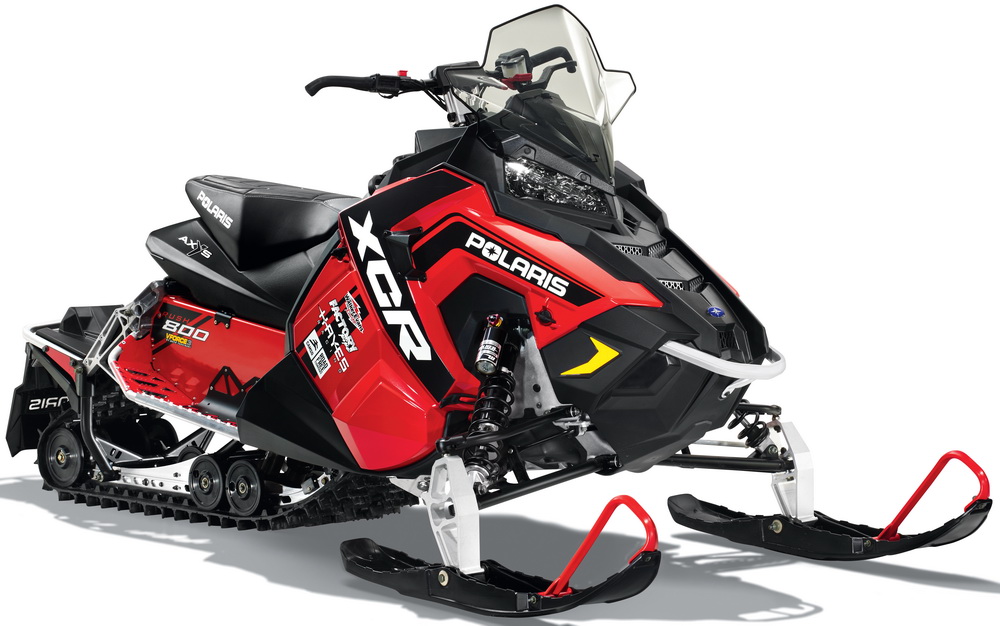 ---
Best Entry Trail

Winner: Arctic Cat (Lynx)

Runner-up: Polaris (Indy)
Entry level machines take into account cost versus features. In the case of the trail sleds, you can get into a one generation old chassis, yet get ACT Diamond Drive, and electric start all for just $6,599. The Indy is the next closest at $6,799, but you lose out on electric start.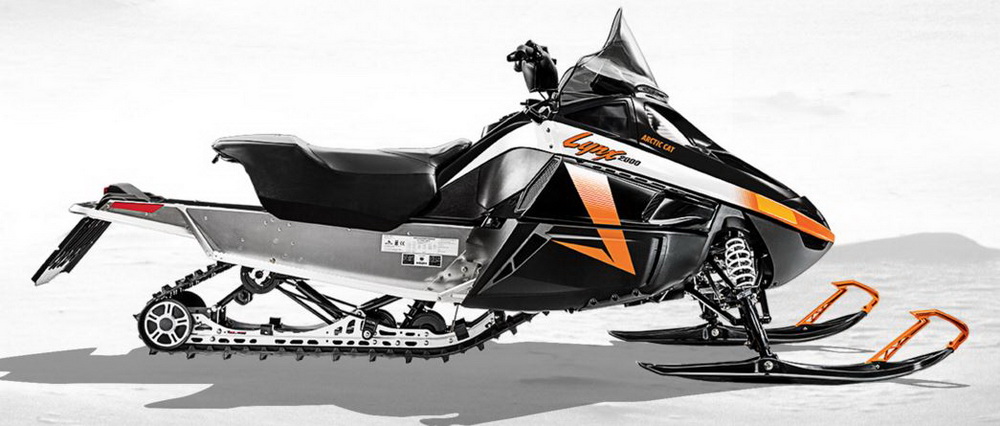 ---
Best Entry Mountain

Winner: Ski-Doo (Summit Sport)

Runner-up: Yamaha (Phazer M-TX)
There is no better bargain for a mountain sled than the Summit Sport with its 600 carb 2-stroke engine putting out about 100 ponies for just $7,999. No other manufacturer comes close. All of the other 2-stroke mountain sleds come in over $10,000. The next closest entry mountain goes to Yamaha's Phazer M-TX at $9,350, and while it's the 80HP 4-stroke, it's more than capable of putting a smile on your face in the powdery snow.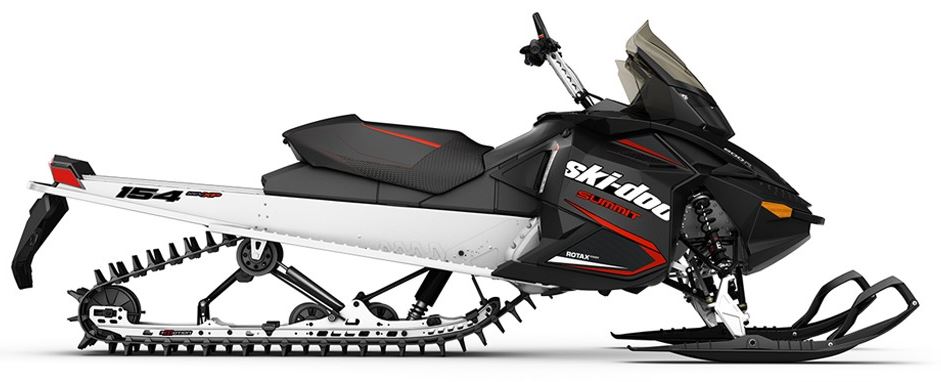 ---
Best Utility

Winner: Ski-Doo

Runner-up: Yamaha
This is the category where if your life depends on getting around in the snow, you want the most reliable sled that will get you there and back. Of course, you might also want to play a little, because all work and no play makes a Yeti out of a snowman. This is where Ski-Doo shines by offering a very modern chassis and fun features in all of their utility sleds, and giving you a lot of choices.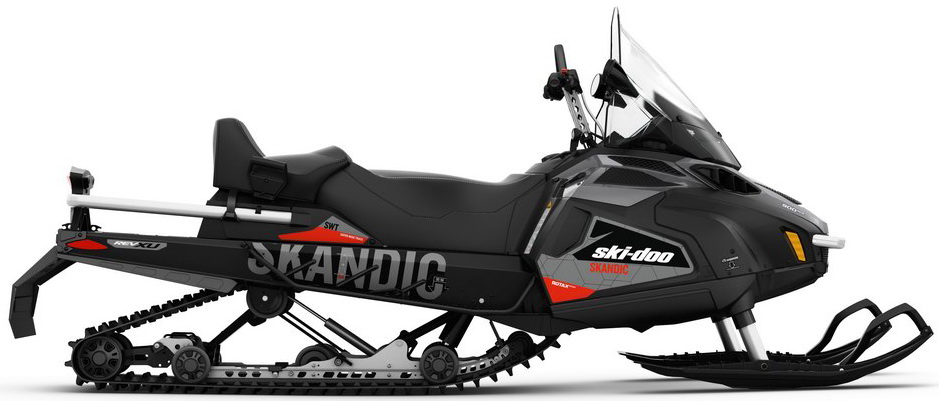 Arctic Cat also offers a lot of choices and amenities, but worldwide, the Yamaha VK540 is Yamaha's best-selling sled overall, and they've improved it for next year.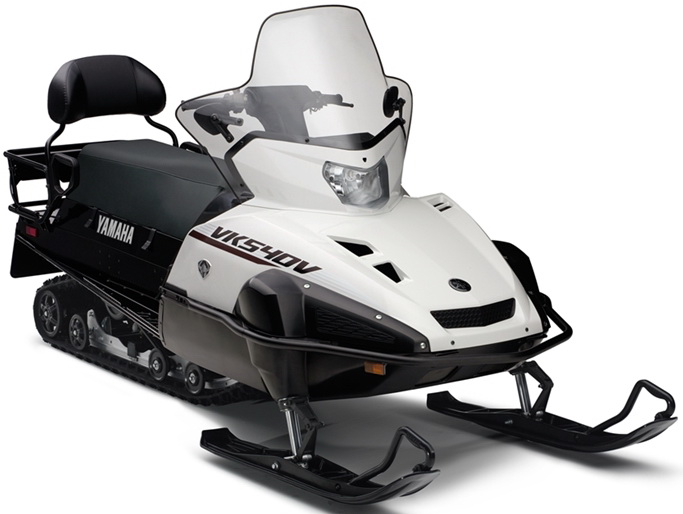 ---
Best Touring

Winner: Arctic Cat

Runner-up: Ski-Doo
Arctic Cat has top honors here with the Pantera and its heated seats, hand warmers, big windshield, and removable storage among other luxury features. It is also in an updated sporty chassis, so you don't feel like you're on a touring sled when you're riding alone.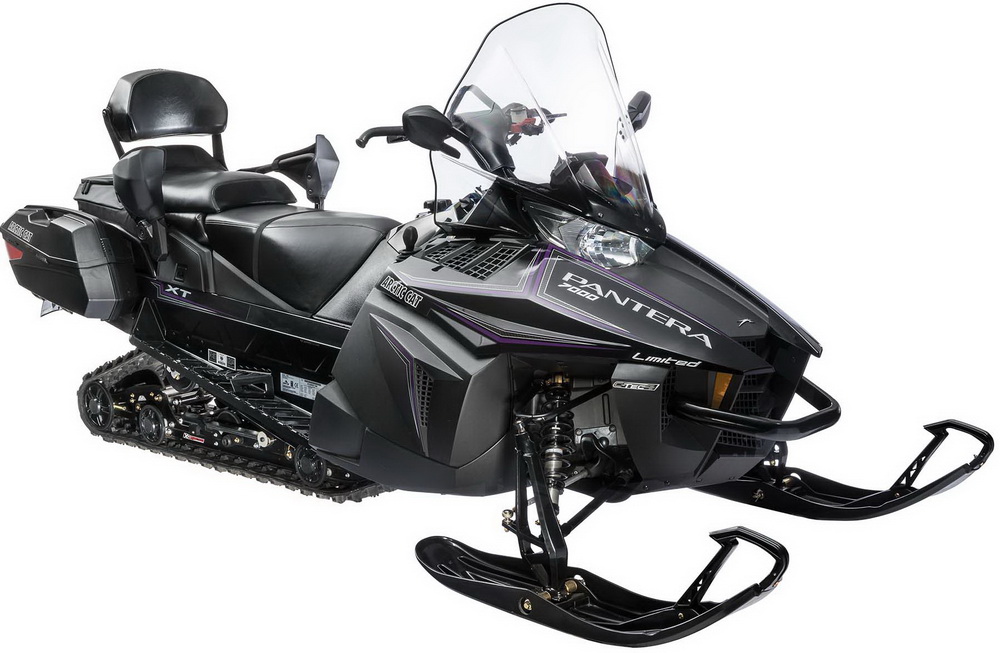 Ski-Doo's Grand Touring SE is a very close second with similar features including the heated seat and an air controlled rear suspension. The Grand Touring, however, doesn't feel as luxurious as the Pantera.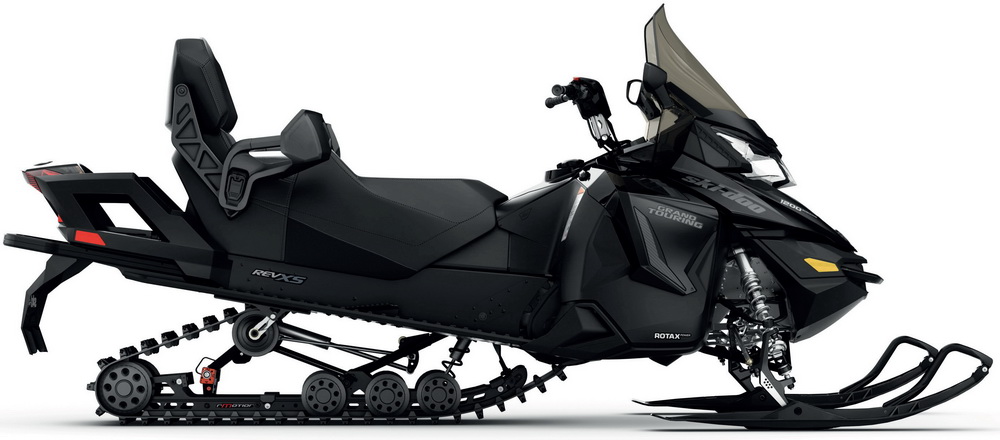 ---
Best Trail/Ditch

Winner: Polaris (Rush)

Runner-up: Ski-Doo (MX Z XRS)
This, too, was a hard choice as all four offer great trail and cross country machines. We have to take into account the entire experience when it comes to sledding, and this is the biggest segment overall. This includes ergonomics, wind protection, shock package, gauges, personalization, handling, and engine. We feel that the Polaris Rush hits most of those marks higher than the other models out there. Not by much, but overall the Rush package just handles the trails the best, has great economics, and the best gauge. This is further enhanced by the XCR package with Walker Evans shocks that are hard to top.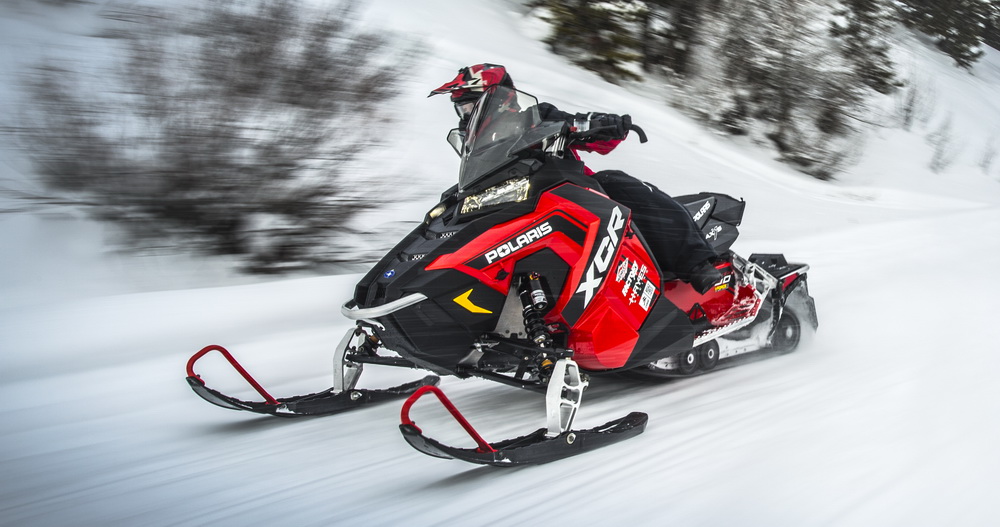 The MX Z XRS came in the second closest to best trail handling. It seems the thing these models have in common is their rear suspension, both of which are rising rate progressive designs.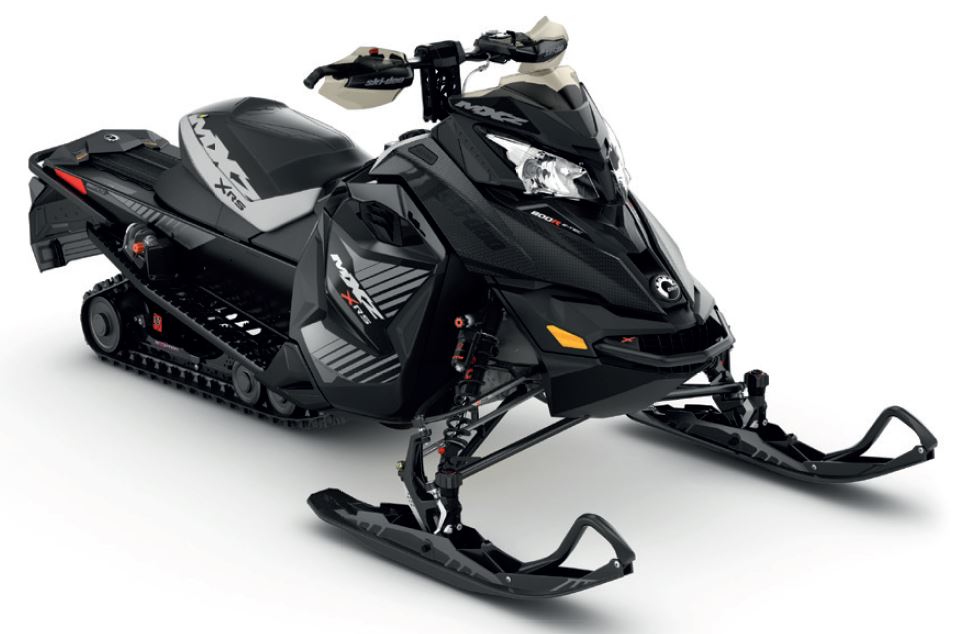 ---
Best Mountain

Winner: Ski-Doo

Runner-up: Polaris
Best mountain sled is a constant debate. This year Ski-Doo comes with a new chassis, motor, clutch and other supporting pieces. We suppose that raises a few questions; is it really good to have a 3.5 pitch track? But from what we have seen in riding the new Summit X 850, it is going to be a terrific mountain sled and comes out on top in our initial ride.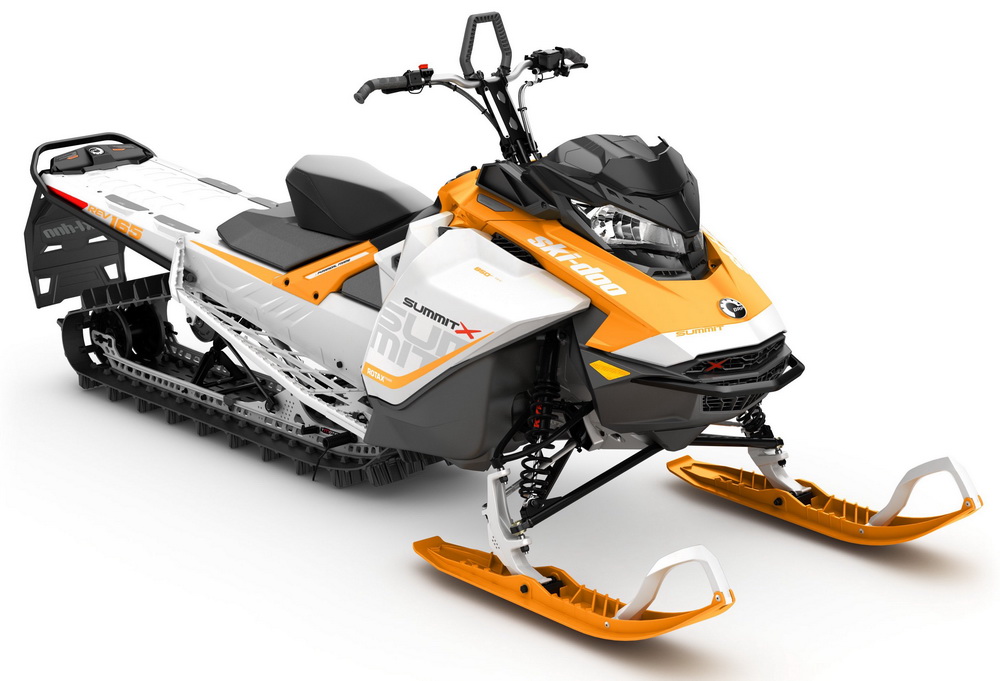 In a second breath we have to mention the Polaris 174 AXYS RMK. Deep bottomless fluff is going to be this sleds playground but it does give up some top end HP to the Doo and the new Doo clutch with its quick adjustment puts the Polaris in runner-up status for 2017.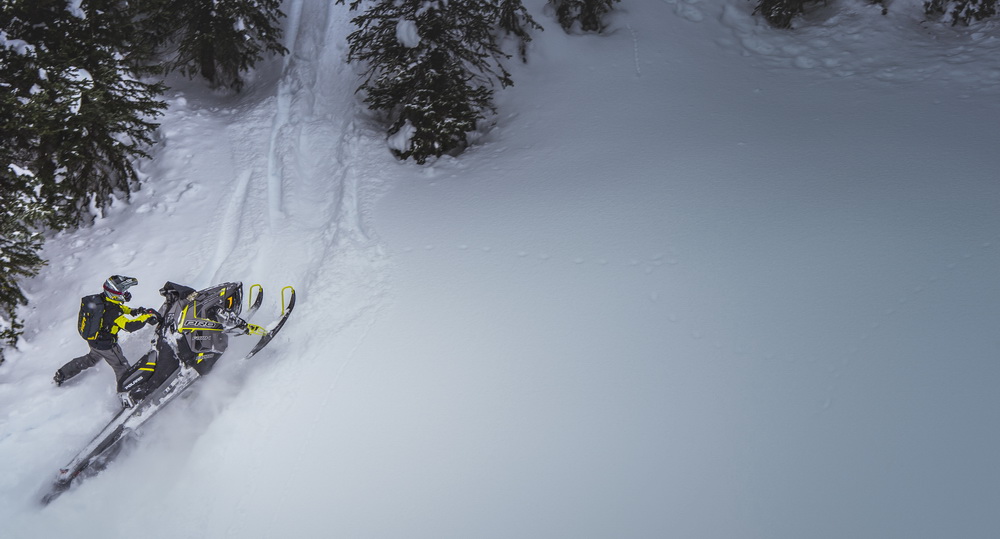 ---
Best Crossover

Winner: Polaris (Switchback)

Runner-up: Ski-Doo (Renegade)
All four brands now offer a crossover that is trail first, off-trail second and also off-trail first and trail second. There seems to be two types of crossover riders out there, but we think there are more on-trail riders than off in this category. For this reason we decided to pick the best on-trail crossover.
Again, picking this one is like getting into field goal position in overtime, right down to the wire and all four bring something to the table. But when it comes to on-trail first, the Switchback wins out. In fact, we went back and forth and finally just had to pick one. Polaris nails it with the Rush in the trail category and they do so here as well by adding a longer track to the AXYS chassis. It's the overall package with the ergonomics, windshield choice, and the gauge bringing it all together.
Renegade is a very second close for the same reasons the MX Z was a very close second in the Trail category. The rMotion with Quick-Adjust is what sets it apart, but the ergonomics are just not quite there for our riders.
---
Best "Other" Categories

Breaking this further down, we see that Yamaha and Arctic Cat win in several other categories.
Best Fit and Finish: Yamaha Vector/Apex
Best Retro: Arctic Cat El Tigre
Best Race Team: Arctic Cat
Best Fuel Fill: Yamaha Vector/Apex
Best Wind Protection: Yamaha Venture GT
Best Extreme Sled: Ski-Doo Freeride
Best Warranty: Yamaha
There are a lot of minor categories we could go into, but these are the major ones that most sledders care about. All of the manufactures bring a lot to the table and honestly, you can't go wrong with any new sled you choose.
---
Overall Winner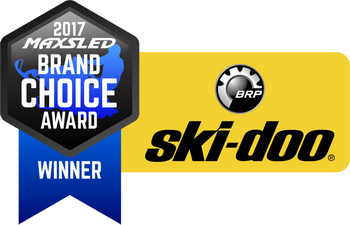 With all the winner and runner-up places, one brand takes home more awards than the others, and this is Ski-Doo. In fact, they showed up in nearly every major category. They have a lot going for them and are on the gas with a huge variety of 2-stroke and 4-stroke engines, purpose built chassis, and model packages to fit every snowmobiler. They also are all-in with the new 850 E-TEC, offering it in models across their lineup.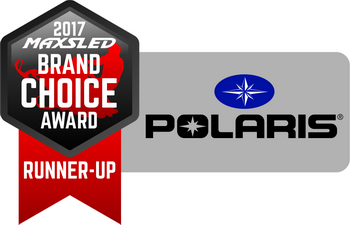 Our runner-up is Polaris, and they even had more firsts than Ski-Doo, but they are still missing in a few categories.
Arctic Cat and Yamaha, each with wins in their own right, were still very close but edged out by the leaders.
The real winners are us snowmobilers. There are a lot of choices out there and if you can't find the exact one that you want, you're not looking hard enough. Our Choice Awards are, of course, subjective but they are based on our experience of riding and publishing over the last 18+ years; we feel we have a pretty good handle on this.
We hope this helps you with your decision on your next snowmobile. Get down to your dealer for the pick-of-the-litter on a 2017 and don't miss out!
Spring Order Links:
---
---
A special "Thank You" to our friends at www.Motoneiges.ca for helping with photography.