It is the end of another snowmobile season for those of us in the Midwest, and not long before the Spring Order deals are over. This means we've had plenty of time to put some miles on our Polaris Rush Pro-S 600 Pink Ribbon Rider Edition and we have to say, we are thoroughly impressed.
We wrote about our initial ride here, and it was cold that day, really cold. We've since been on a few trips and rode in various conditions and the Rush Pro-S is about as perfect a snowmobile as you can get for most riders. It never left us longing for more. Sure, we love the torquey 800 Liberty Twin, but the 600 is no slouch. Throttle response is predictable and smooth, power is near instant and gratifying. On a casual ride, we got over 14 MPG and on a hotrod ride we got a little less. We aren't sure you'll get much more economy than that, but driving 100 miles for $15 isn't bad. It's way cheaper than an amusement park, and much more exciting.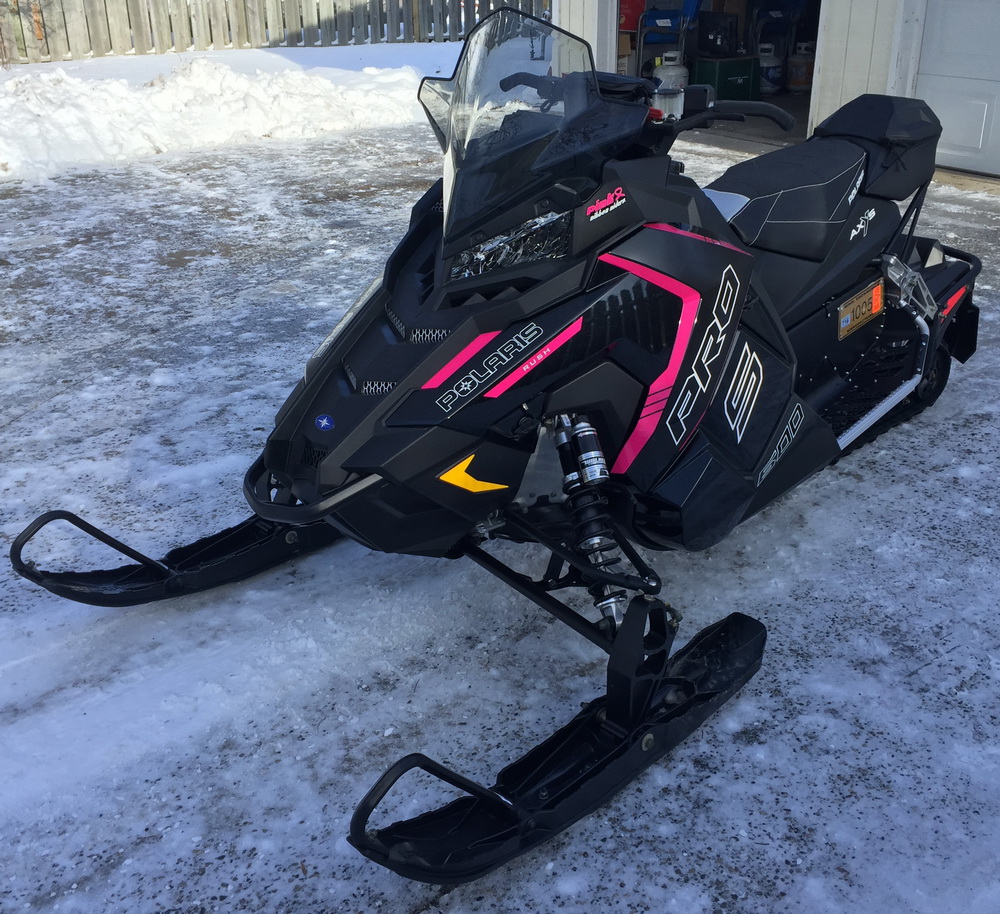 The front and rear suspension is donned by Walker Evans shocks that allow it to be tuned right down to a gnat's ass. But we found that medium to heavy riders didn't need to adjust them from rider to rider once they were tuned in. We did have a little trouble finding the right calibration to fit most conditions. We settled on a softer ride over the stutter bumps, and slowed down over the bigger moguls. We tried setting it up to take the big bumps, which it did very well, but found that the stutter bumps rattled our teeth. The Pro-S shines over the stutters when set properly. If you like hitting bigger bumps harder, the Pro-X might suit your tastes better.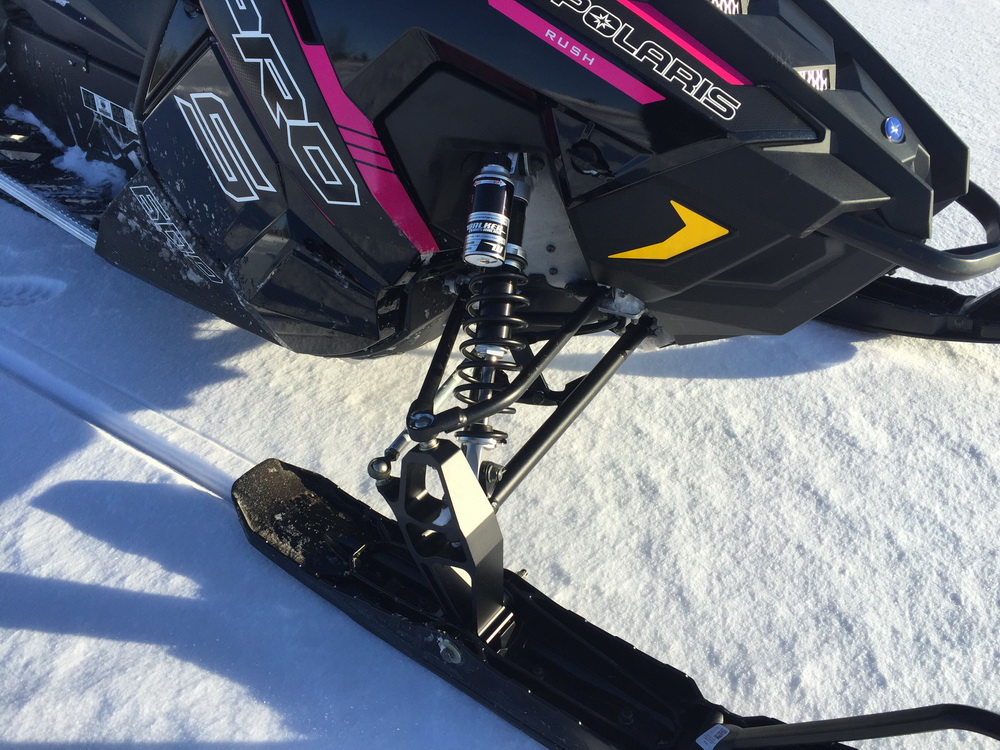 Our team has a helluva time finding a machine with as good of ergos that fits us as the AXYS. We love the relationship ratios of this machine between all body contact points. Kudos to Polaris for a seat that not only functions and fits well, but also looks tech and cool. The wide runningboards are also a very welcome design feature. One day we went from the Rush Pro-S to an older EDGE XC and it felt like we had zero foot room. It's something you don't think about on the new machines until you go back to old school.
Probably our favorite feature, if we had to pick one, is the Polaris Interactive Digital Display. This thing has (almost) it all. By toggling through the screens from the handlebars, you can see you speed and revs, then go to your GPS map and see where you're at on the trails. It will show you sled info and sync with your phone. You can download and upload and practically never get lost. MaxSled Test Pilot, Randy Nemitz, had a great idea. He would like to see a future version be able to sync with other rider's PIDDs so that you can track where others in your group are. Each rider can be assigned a color and you'd instantly know if they are still with the group or if they stopped just by looking at your screen.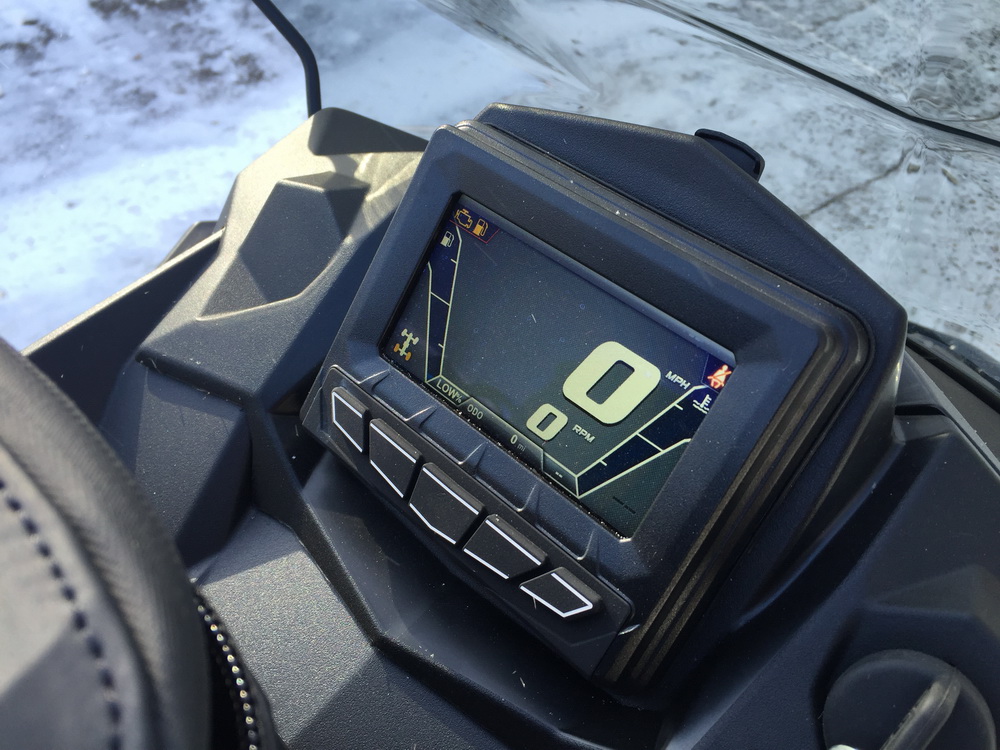 One item we missed on our unit was a power plug and a heated visor power connector. This is something you can get installed at the dealer, but ours didn't have it and on that really cold day I could have used it to keep my shield from fogging, and to charge my iPhone. Here is what it looks like installed, and it's the perfect place for it.
The 2016 600 Rush Pro-S is a great machine built for the widest range of riders and we would not hesitate to recommend this model from Polaris. A bonus that Polaris offers on this machine is the offering in a subtle, but noticeable Pink Ribbon Rider package that gives you a nearly all-black sled, including the tunnel, with a hint of bright pink. The biggest part of this package is that Polaris donates to the organization a portion of the profits to help breast cancer survivors, and that makes this sled one of our team's favorites.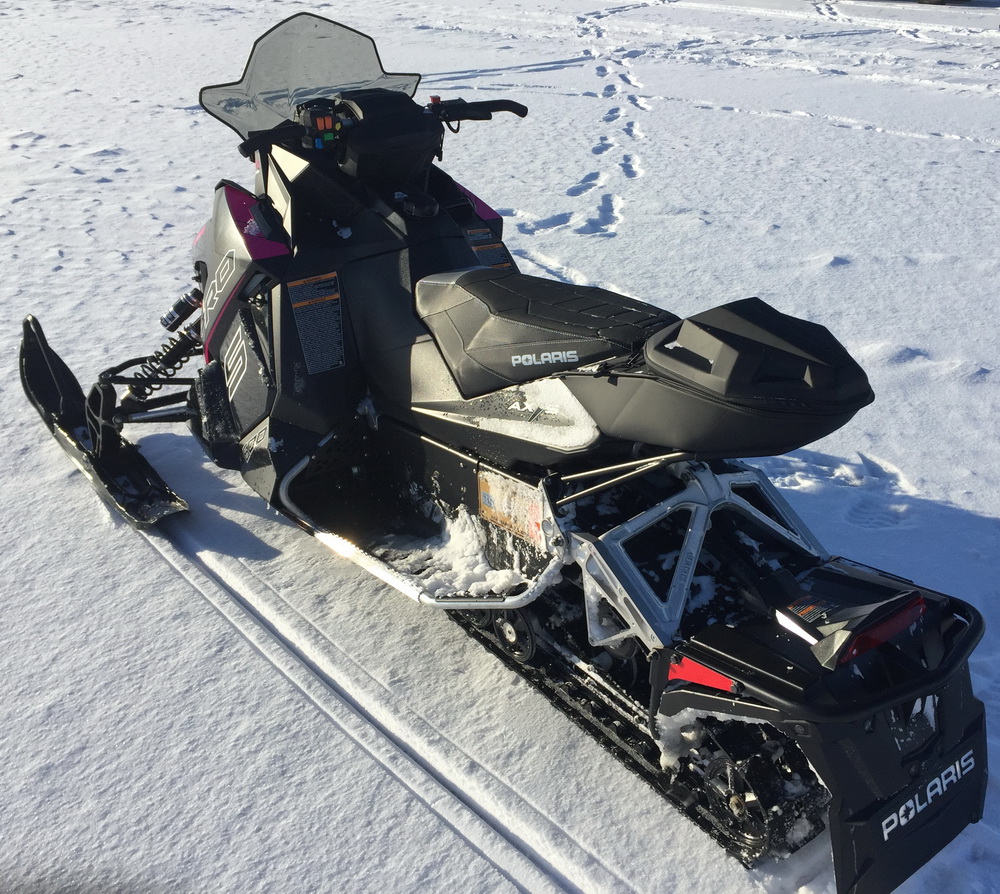 Test Pilot Randy Nemitz adds, "I couldn't agree more with Shane's thoughts on the 2016 Rush Pro-S 600. There were a few other things that really stuck out for me.  The LED headlights are a game changer. Once you ride with them at night you won't be able to go without them. The light is so crisp and white and with the snow and all the trees, It's amazing. All other lights seem so yellow and dull. One other strong note was the lighter weight. While testing other sleds, and then getting back on the Rush Pro-S 600, I could not get over how light the entire sled felt. The turning, jumping and everything else on the trails just plain felt like I was on a kids sled because it was so light. I'm not a big "lightweight" person when it comes to sleds; don't care how heavy they are I like to just ride them. But the 2016 Polaris Rush Pro-S 600 is the first sled for me that really made me think 'Wow this thing is really lightweight feeling'.
The other thing that stuck out to me was the seating position. You just plain can't get better. Great job Polaris, Don't change it!"
Polaris is once again offering this package for 2017, so if you aren't sure of the color you want on your new Rush Pro, consider this one and be the envy of your group.